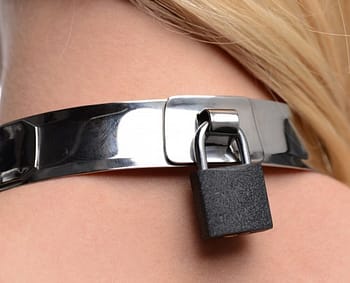 Decorate your slave with an attractive and unique collar made of stainless steel. The front, which comes to a graceful point, is adorned with a useful D-ring, allowing you to attach a leash or other bondage and BDSM accessories. A latch in the back of the collar closes when you put a lock through it, effectively claiming ownership of your partner.
---
This stainless steel collar rests delicately over the collarbones of your submissive, a stark reminder that they belong to you. Uniquely designed, the metal front comes down to a point, while the back secures with lace ties, making this a one-size-fits-most accessory. Wear at home in private or out in public, always as a statement of pride.
---
No One Will Know It's True Meaning, Except The Both Of You
The Forever Mine Submissive Bracelet, discreetly expresses your Ownership and Dominance in her life!
Your submissive is beautiful and perfect in her obedien
ce to you. She follows your commands and does everything she can to make you happy. You have collared her as your submissive and she is truly happiest when she is serving you.
Sadly, life tends to get in the way when it comes to enjoying O/our desires. W/we
just can't be in the Dungeon or play room every waking moment and all your submissive wants is
to feel your presence and Dominance in her life all the time.
Now She will finally know that she truly belongs to you!
She will praise you for such a beautiful and meaningful gift and will beg you to never take it off once it's on.