Bondage is the act of tying or being tied up. However, bondage is more than just getting out the bundle of rope and starting to make knots. It's an intricate balance of trust between the Dominant and the submissive.
The Dominant needs to trust that the submissive will tell them if something is hurting too badly, while the submissive needs to trust that they are not going to be hurt while they are unable to move.
Bondage can be a lot of fun for the couple that wants to spice things up or who wants to explore a little BDSM along the way, but when it comes to playing with bondage, there are some safety considerations that you need to remember as well. Having fun is one thing, but making sure that you have fun in the future too is something you need to keep in mind.
A lot of people think that bondage is just about tying your partner up and making sure they can't move. Or, for others, bondage is a game of getting someone to do something they don't want to do because they are tied up. But often, this narrow thinking can lead to dangerous situations. Bondage can be hot and erotic, but it can also be deadly – and that's not being dramatic.
When you don't know some basic ties and some basic rules of bondage, you can inflict bodily harm on someone else. For example, if you tie someone's wrists together improperly, you can break someone's bones quite easily. If you suspend someone from the ceiling by their wrists or their ankles, you can also break small bones, permanently harming them. But being safe about bondage isn't just about preventing bruises and breaks; it's also about preventing emotional trauma – the kind that never really goes away.
Bondage is, at its core, a form of trust play. When two people trust each other, it can be a beautiful experience in which one person loses control by giving it up to the other person. But if one person breaks the trust or loses the trust of the other, bondage can be a horrifying experience. When lines are crossed that were promised to not be crosses or the person being bound doesn't say anything about something hurting or being uncomfortable, both people can be emotionally scarred from the experience. And that doesn't make a second attempt all that appealing.
To help make your first (or millionth) bondage experience all the more safe and sound, here are some basic tips that you should keep in mind when you are in a bondage situation:
Never do bondage with someone that you don't trust. This should be fairly common sense, but you would be surprised to see how many people will actually agree to a bondage scene with someone they barely know. Even worse, they will go somewhere with this person that they are unfamiliar with or even go to their home without telling anyone where they are going.
You shall not tie anyone up until you have learned some basics and practiced on inanimate objects.When you don't know what you're doing, your partner should not be a test subject.
Do not do bondage by yourself.Someone must always be present, of course make sure you trust them as in previous example. Never leave someone alone, tied up and helpless. EVER. Someone should always be in the room at all times.
Never tie someone across their neck or windpipe. Even the slightest bit of pressure on this area can cause the airway to collapse.
Never do bondage while either of you are intoxicated or under the influence of drugs. This is going to hinder both of your abilities to make solid decisions about your health and well being. For example, someone that is drunk might not realize they are tying someone up so tightly, while the person being tied might not feel the pain of their bones being crushed.
What you need to realize is that bondage is a game, but it's a game that needs to be played with safety in mind. Because you are working with the issues of trust and bodily safety, you need to keep in mind that the human body and mind are fragile. Safety should be on the top of your mind at all times.
There are a number of things you can do to make sure that your bondage scene is safer:
Learn about proper ways to tie and practice those ties on inanimate objects.
Discuss the conditions of what can and can not be done during play before you start the scene, so you both get what you want from the scene.Everybody involved in the scene should have a clear idea of what is off limits and a safe word should be established to end the scene if need be.
Keep a pair of EMT scissors on hand to cut the rope in case of an emergency or if you are not able to untie a knot.
Only do bondage with someone you know and trust.
With that said, here are some basic kinds of bondage:
Tying the slave's body down to another object
Suspending the slave's body from another object
Pulling parts of a slave's body together (rope, tape, straps, etc.)
Spreading parts of the slave's body apart (spreader bars, etc)
Wrapping the whole body of a slave or a part of the body in bindings
Restricting normal movement (very high heels, hobble skirts, corsets, etc.)
But in some D/s relationships, there is no bondage or there is very light bondage used in the scenes. The preference depends on the Master as well as their slave. For many, tying up is a great way to relinquish control in a visual way as well as in a physical sense. When you can't move, you're pretty much going to agree with whatever the Dominant wants you to do.
What is another attraction of bondage is the idea of giving up control over the way that a slave reacts. When they are unable to move out of the way of sexual stimulation, they cannot help but react to the pleasure. This is a very serious upside for some submissives that are less than confident about their sexuality.
Bondage allows them to explore their sexuality, what they like, and what their body likes, without feeling like they are the ones 'asking' for the pleasure directly.
There are several things that you will want to keep in mind when you are planning on tying someone up:
Practice, practice, practice
Have safety scissors readily available
Start with simple ties and then progress to more advanced ropework
Never tie across the neck or windpipe
But assuming that you're going to be safe, you need to learn the basics of tying someone up.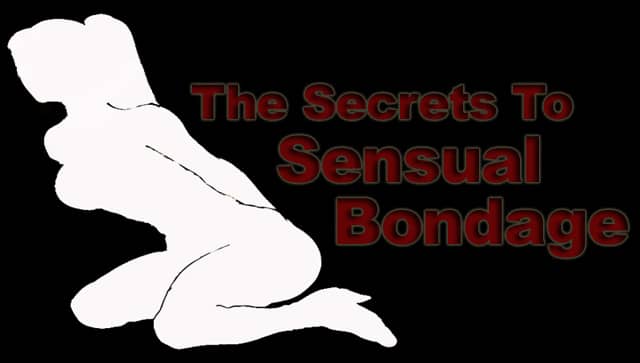 From the basics to gorgeous glamour style bondage designs that not only look beautiful but will satisfy your partner's desires for tight restriction. Everything you need at your finger tips
Related Entries