Since W/we are always on the lookout for new and exciting kinky toys for O/ourselves, W/we like to add the best ones to the BDSM Toy Shop, so you can enjoy them as well. It's all about spreading the kink here at the BDSM Training Academy. Have a look at some of O/our new additions.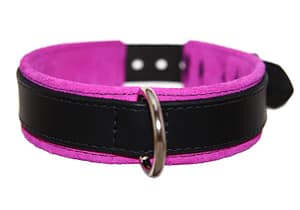 For those submissives who want a little more pink in there life, O/our best selling submissive training collars now come in a pretty little pink just for you.
Whether your a pretty lil sub girl or a lil sissy sub boy, these new pink collars will definitely help to establish your position in life.
Pink Submissive Training Collar
This beginner rubber flogger is made from quality neoprene rubber, which makes them extremely sturdy, durable and easy to clean. It is extremely difficult cleaning a leather flogger to ensure that it has been properly disinfected from previous play without destroying the leather. However, it is extremely easy to clean these rubber floggers after each use. Just use a bucket of water and bleach (10% bleach solution) and/or a disinfectant spray and wipe down each fall to wash the flogger and hang it to dry. Its that simple, especially after a long hard scene.
Electro Muscle Stimulating Units use painless and light continuous electrical pulses aimed at specific muscles forcing those muscles to contract and relax. As the muscles are stimulated, the body is forced to pump more blood into these areas. The more blood pumped into a woman's erogenous zone the more aroused she becomes, the more aroused she becomes, the more endorphins that are released into the body. Thus stimulating the vagina to have more intense orgasms. Now who wouldn't want that?
Just starting out with impact play and want to move on from spanking? Paddles, floggers and canes each have their own unique learning curves and can be a little intimidating for someone just starting out. Crops tend to be easier to handle compared to floggers and canes and have much less of an impact as a paddle. In this way, crops make a excellent stepping stone for Dom/mes want to take their impact play to the next stage.
Do you love latex? Do you love being completely immobilized? Than you will absolutely love this Latex Vacuum Bed! Nothing feels more exciting for a latex lover than to be instantly shrink wrapped into submission. you will be helpless to move, as the latex locks you tightly into place. All you will be able to do is breath and wait for what your Dom has planned next. So strike a pose and enjoy!
Let U/us know what you think of O/our new items by leaving a comment below. Also, if there is a specific kind of product that you are looking for let U/us know and W/we will try to find it or see if W/we can convince one of O/our manufacturers to make it.
Regards,
Master Bishop