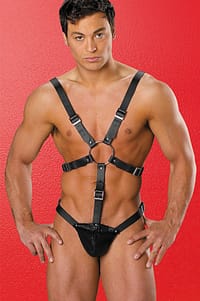 Sometimes you want to be in control, even when you're not beside your slave – and that's your right as a Mistress. In order to make sure he knows that you're the one who's calling the shots, you might want to try some bondage on the go. With a bondage harness, he can always know that you're there, even when he's going through his normal daily activities. This simple tool allows you to exert control and to continue training your slave to do everything you desire.
The Right Bondage Harness
There are a couple of different ways that you can handle a bondage harness for your slave. You could use rope to create a bondage harness, simply encasing his torso in rope or bondage tape to help him feel your control around him. You might also want to buy a leather bondage harness he can wear underneath his clothing. Try a few of these harnesses in the scenes you do and then see whether you like the control these tools provide. You may even want him to wear the same harness from a scene until the next time you see him…
Putting it on Himself
A good way to control a slave is to have them do the things you would do to them when you're not around. By having him put on a bondage harness before he starts his day, he will know that you are controlling him and that you have the power to control even his everyday activities. Give him a list of instructions when it comes to wearing the harness, including the exact time that he should put it on, how long he should wear it, etc. You will also want him to tell you when he has it on or you could have him videotape himself when he is putting it on to have proof of his devotion to you. You might also want him to take pictures of himself in the harness and go to certain places so that he feels exposed, even if the harness is hidden under his normal clothing.
Putting it on for Him
You might also want to make a scene in which you put the harness on him, but do nothing else. Allow him to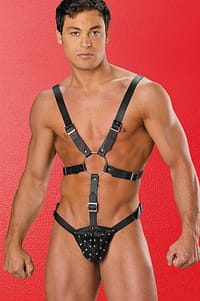 feel as though you are gearing up for a certain scene and then make sure that he keeps the harness on until the next time you are scheduled to meet. As you are putting on the harness, tell him what it means to you and what he should be feeling when he is wearing it. He is under your control and this is a much more effective tool than a collar or some other sort of slave brand. Make sure that it is tight enough that he can feel it, but not so tight that he can not move normally. If he does not have a job that takes him outside the home, then he could wear the harness and nothing else to present himself as a slave outside of the dungeon.
When you have your slave under your control, they will be able to maintain the slave attitude, even when you're not actively training. Having a routine of him wearing the harness in his daily life allows him to always be ready for the next scene, while also proving he is willing to do whatever you ask. In time, you might even want to create more things for him to wear when you are not around. Soon, this practice will be nature and he will wonder how he ever made it through a day without your control.
Check out the BDSM Toy Shop for Male Bondage Harnesses that you can incorporate into your training.

Regards,
Mistress Sophia

================================================================
Copyright 2008-2014 BDSMTrainingAcademy.com. By reading and
accepting this article you agree to all of the following: You
understand that this is simply a set of opinions, personal
experience and anecdotal evidence (and not advice). You are
responsible for any use of the information in this article, and
hold BDSMTrainingAcademy.com and all members and affiliates
harmless in any claim or event.
================================================================
You must be 18+ years old to read this blog