She used to struggle to pull herself out of bed for her old jobs, but since she started her new job, she came in early every day and begged to be allowed to stay late. But this was no ordinary office, and this was far from your typical job. While this job was not for everyone, it was what she had always desired and hoped had existed.
She always tried to dress to impress her Boss. Today, she picked out a very professional suit skirt but ensured it fit tight and enhanced in all the right places. If it were not for the metal cuffs, collar, and chains locked onto her limbs, one might be convinced this was your typical office space.
Her office chains had to be put on each morning once she arrived at work, and the key to the locks was presented to her Boss. When she first started the job, she found them difficult to work around, but after only a few days, she couldn't imagine working without them. The chains followed her every movement as a constant reminder of her position. They pushed her to do her absolute best on every task.
When her Boss first presented them to her on her first day, she felt a flash of embarrassment, but instant excitement overwhelmed all her senses.
She didn't know what to think, except that she was the one who had been sending email after email begging for a position within the company. She knew what the company did and what the job entailed but still couldn't believe what she was being presented with.
Without any hesitation, she could hear herself screaming, "Yes!!!"
Please share if you feel more jobs should be this enjoyable
Without her even realizing it, her hands had shot out to be shackled for the first time. The feel of the cold rubber lining as it enveloped her skin had such a hard but comforting feeling as it resonated with her deep desires.
She snapped out of her daydream as she felt the intense vibrations shoot through her pussy. Her Boss had placed a wifi enabled vibrator in her panties and currently had the freedom to control the vibrations from his office. While she knew it was impossible, it felt as if he knew when she had something in her hand. She almost spilled both the milk and sugar, as her hands tightened around both to make sure they made their way to the tray as her face contorted in pleasure from the surge of vibrations.
She was not as lucky when she tried to pour the coffee into his cup. A massive flood of pleasure came rolling over her body causing her body to buckle, spilling coffee over the tray. An instantaneous feeling of disappointment and ecstasy over her came her as she stood in the break room frozen in time. There was no way she could present him with his morning coffee like this.
He continued to hit her with wave after wave of pleasure as she desperately tried to wash his cup and tray clean. Her knees clamped tight as she fought the urge to orgasm and focus on getting her Boss the coffee he had requested. She knew he was making this task difficult and she loved every minute of it. Who else got to be in a constant state of arousal just from retrieving their Boss' morning coffee.
With everything ready and the tray cleaned, she began the long slow walk to her Boss' office. The walk was slow and arduous, as a spill now would mean his coffee would be late and she prided herself on always being there for her Boss. The clanging of metal on metal from the chains was like music to her ears and seemed like a song she had been searching for her whole life and only recently found. The quiet humming from the vibrator as it desperately tried to force her to her knees from pleasure.
The hallway felt like a mile long for her, as she tried to maintain her composure. She had to stop and breath multiple times as her body felt like it was no longer under her control, but kept one goal on her mind; making it to his door. With all her strength she forced herself to move inch by inch.
With a knock on the door the vibrations stopped and she slowly turned the handle swinging it open. He was hard at work in front of the computer and didn't even look up as she entered the room. She immediately placed the tray on his desk and meticulous prepared his coffee exactly as he liked it.
Oh how he loved to watch her work, as he pretended to be focused on his monitor. She carried herself with such grace and professionalism and was a stickler for getting the details right. She made all the little things in his life all the more enjoyable as he watched her walk around his desk.
Kneeling down beside him, she lifted up his cup as she lowered her head. He knew she would stay like that until he took his coffee, but today time was precious they had work to do even though it had nothing to do with business.
Taking his cup, "What does my morning look like?"
She immediately grab her tablet and opened up his schedule.
"You have an online meeting in 5 minutes with a new product line, a lunch appointment with Mr. Stevens at 12 and a team meeting at 2:30 Sir"
"Good, cancel my lunch with Stevens let him know that something unexpected came up and push the team meeting for Friday. Some work needs to be taken care of urgently."
"Yes Sir" she replied as she made a note in her tablet.
"Take care of that immediately and join me for the product meeting" he said before turning back to his computer.
Standing up, she took the tray and exited his office. Standing outside his door she was shaking in anticipation. She knew what work he was referring too when he cleaned his schedule. As usual she was more than eager to work herself to the bone whenever he needed her too. His schedule was changed in a matter of moments, the tray was washed and put away and she found herself trying to clean herself up before knocking on the door. Walking up beside him, she knelt down with her tablet and patiently waited for his instruction.
He was already on the computer via video call speaking with a salesman who was trying to pitch him a new product. He silently listened as he fiddled with his own smart phone. When the gentleman on the other end stop speaking, everything went quiet and with one quick glance he looked right at her before speaking.
Once the words left his lips, the vibrator in her panties erupted in a frenzy of pulsating pleasure. Her mouth opened in a desperate need to scream out in aching delight which she had to fight back with everything she had. Each word that came out of his mouth producing a varied pounding on her already overheated pussy. She found herself starring at his mouth, as she watched his words being transformed into physical bliss. His deep strong voice filled her ears and flooded her body to meet the vibrations traveling up through her body. He had consumed her, mind and body and she had no desire to resist.
The meeting continued with the attendee completely unaware of what was occurring on the other end of the video call. With one slight gaze and a nod from her boss, she immediately jumped to task. Crawling towards him as the vibe continued to dance between her soaked thighs, she unzipped his pants only to find his hard cock ready to be serviced.
Holding her chains in one hand to not disturb his meeting and his cock in the other, she eagerly swallowed her Boss without a moments thought. She was in ecstasy as his dominance consumed her entire body. His cock throbbing in her mouth strangely mimicking the vibrations in her pussy that his deep powerful voice produced over and over again. Her mind, mouth and pussy all seemed to coming together, joined together for a moment by his control. Each stimulus pushing one step closer to the point of no return.
Her body desperately convulsing with each pulse that rippled from her pussy to her mouth and back again. The struggle to not orgasm and reveal herself was becoming overwhelming. Her breathing becoming hard and faster as she hopelessly tried everything she knew to get to Boss to cum so she might just a slight moment of reprieve. The harder she tried and the faster she went the more it pushed her further, as she struggled in awe of his beautiful cock.
"Let's visit this again next week. I have another meeting I must get too. Good day"
Once she heard the click of the mouse to end the call, she let out a muffled moan as she struggled to keep his cock in her mouth. Her body twisted and fought with the chains binding her as her mind and body let go of all the pleasure that had been building. As he stood up, doing up his pants, she buckled to the floor exhausted and convulsing from the after effects. Her head spinning as the vibrator in her panties went silent.
Grabbing her by the hair he lead her stumbling all the way to the end of his desk. Pushing her over the edge, he spread her legs with his foot. Her mind struggling to play catch up as he continued to manhandle her locking each of her legs to a leg of the desk. Grabbing the chain attached to her arms and collar, he pulled it as far as it would go locking down her ability to move. She was bent over face down on her Boss' desk and she was happy to be there. She tested her restraints, but had no desire to resist only to experience his full control of her.
Lifting up her skirt around her waist, he exposed her round bottom squeezed into her soaked panties. The remote vibrator slightly bulging as it eagerly awaited it's next command. It was a beautiful sight to witness and one he was going to take full advantage of.
Opening the top drawer in the desk, he reached in removing a beautiful solid silicone paddle. Her ass cheeks clenched instantly from the split second glimpse she got.
She tried to slow her breathing down, taking in big long breathes as she steadily positioned himself behind her. While completely out of view, he was at the forefront of her mind. With her head raised and arms flexed she waited what seemed like an eternity for the first blow.
She heard the whooshing of air as it was being forced out of the way by the paddle. Her body jumping before the paddle ever touched her. The loud crack of the blow echoed through the hall of the office in search of ears to fill with the beautiful sound. The sting of the initial impact caused her to jerk as it carried screaming to her brain, as the thud of the blow rippled through her body. The remote vibe registering the sound of the impact and translating it into a vibrating pleasure sensation. An intense moment of pain followed by instant relief as the vibrations aroused her body further she collapsed back down onto the desk.
"I need you to setup that meeting for early next week"
"Yes Sir" she replied making a special note in her head, which was enforced by another impact of the paddle. Her body jumping, before relaxing into the down again.
"They will be sending you information on their line. I want you to go through it and have a summary for Me by Thursday."
"Of course, Sir" was all she could say before the paddle struck again.
"Now let us get down to business"
The impacts became more frequent, as the paddle bounced off each of her cheeks. Her body twisted and shock as it desperately tried to embrace the overwhelming blows. The vibrator trapped by her pussy, danced madly from the sound of each paddle. She felt her ass quickly heating up and turning red, as her pussy followed suit. She new this feeling all to well as she began to lose the fight with control of her body.
"Are you enjoying your new job?" he asked.
"I love my job, Sir" she squeaked out
The paddling intensifying forcing the vibrator to match.
"Do you enjoy all the benefits your job offers you?"
"Oh God…I do Sir" she moaned
"Not many jobs like it, are there?"
And with that the paddling stopped.
With a giant sign and a moan "I don't know of any jobs like this one Sir"
Pulling her panties down, he slowly spread apart her ass. His hands felt cold against her burning red bottom.
Slowly she felt a round hard bulb press up against he steaming wet pussy. Her lips throbbing around the tip trying to pull it deeper within her.
"happy secretary appreciation day" he proclaimed as he slide the handle of the paddle into her eagerly awaiting pussy.
"Thank you Sir" She screamed as her threw her head back.
He proceeded to slide the dildo shaped handle in and out of her pussy as she moaned for more. Her pussy squeezing down around the dildo as it filled her up. All she wanted was more; harder, faster, deeper. His control was driving her wild and she couldn't get enough. She no longer had any ability to control her reactions, her body was responding solely to his every move and command.
Then the handle was removed and she was left exhausted, limp and sweaty on the desk. The beautiful hair was an absolute mess and the makeup she had perfected this morning was all over her face. He slowly walked around to face her as he unbuckled his pants. Lifting her head up by her hair, he brought his face inches away from her.
"It looks like we are going to have to work overtime tonight. Are you up for it?"
Her body ached and cried for more as she starred at the hard erection shooting out of his pants.
"Yes Sir, I am more than ready to put in extra work." she moaned as she braced herself for more.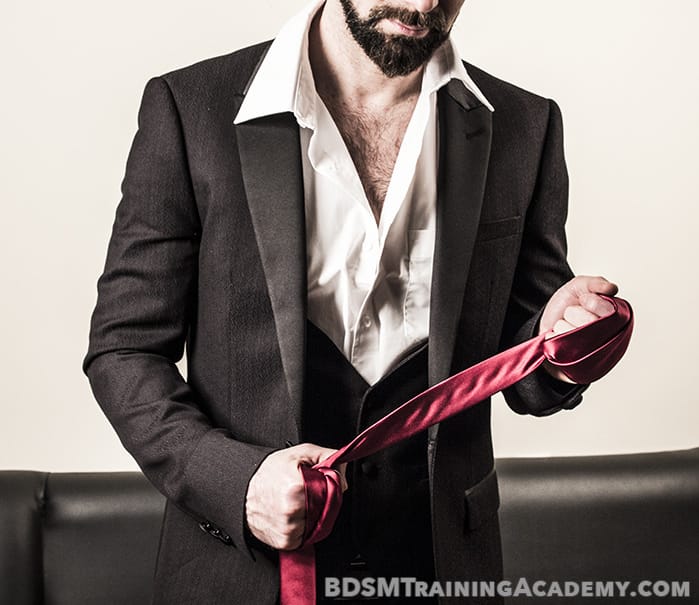 By Master Bishop
The founder of the BDSM Training Academy. Master Bishop has been involved in the Dominant/submissive lifestyle for over 20 years. With a love for education both learning and teaching, Master Bishop has passed on his knowledge and experience to others entering into the BDSM lifestyle for over 15 years.
Add Some Additional Fun To Your Play
Get The Toys For Yourself
This story is a work of fiction
By reading and accepting this story you agree to all of the following: You understand that this is simply a fictitious story
(and not advice). You are responsible for any use of the information in this work of fiction, and hold BDSMTrainingAcademy.com and all members and affiliates harmless in any claim or event.
Copyright 2008-2023 BDSMTrainingAcademy.com
You must be 18+ years old to read this blog