I'm semi new at being a Mistress. I just don't get why the subs and slaves think it's all about making them happy. And not me. How do I make them know it's JUST not about them?
Thank you if you can help me.
=======================================
Mistress Sophia's Opinion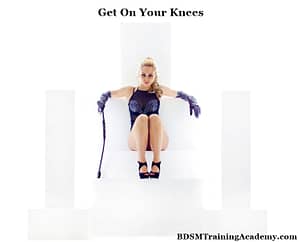 First things first, know that the Mistress role is one that gives you a lot of responsibility. You are going to be in control of another person, another person who has willingly given their body to you. This is not something to take lightly, and it's not something that you can simply take for granted. Their safety both physically and emotionally is in your hands.
Yes, SOME slaves think that the BDSM relationship is all about making them happy and fulfilling their desires – and this is often because they haven't been serious about giving up control, are only interested in the fantasy of submission and have no desire to truly serve or they haven't been trained well. Since you can't necessarily change the way a slave feels or force them into a role they don't want to be in, the first thing you need to do is sit your submissive down and find out what it is that they want from your training. Are they only looking for something to spice up the bedroom fun or are they hoping to actually serve a Mistress' desires.

If your submissive is only looking to add some kink to their bedroom fun, then you have to decide if you are happy with that. If however, they want to be made to serve your needs and desires than let's talk about how you can be a stronger Mistress to inspire their undying service.
Be strict – You can't be someone who makes it all about the slave. You need to make every single session about you. Think about what you want, what you want the slave to do for you, etc. Eventually, they will get the picture.

Remind them – about their position as a slave/submissive, the responsibilities that position entails and why they begged to be in your service.

Stay in character – Even though you're new to the role and you might be nervous, you can't break out of character. You need to be the Mistress the entire time that you're with the slave, and preferably until they are out of the room.

Practice your scene ahead of time – To be in control, you need to know what you are doing in a scene, how long you will be doing it, etc. You can't be a person who is trying to wing it with a slave who is trying to see if they can get away with anything.

Have plans for problem slaves – You also need to have some backup plans for slaves that may want to make everything about them. Have a place where they can sit and be punished. Be ready with handcuffs to remind them that they are not going to get anything unless it pleases you.
One of the things I like to do is to make sure that my new slaves always ask me for permission to do everything. This reminds them that I am the one that is in control, and that they are not going to have anything unless I say it's okay for them to have it.
I want them to ask for permission to do everything: go to the bathroom, get up, move around, scratch their nose, etc. And I remind them that they should have asked when I see them do anything.
I also make sure that my slaves know how they can please me: obey my orders, rub my feet, clean my house, etc. I don't ask the slave what pleases them, unless I simply tease them with it for a while until they have earned it.
Make your slaves earn the things they want, and then they become the true slaves they wanted to be.
Regards,
Mistress Sophia

P.S. If you have any other tips that you think are important please leave a comment below. W/we can only grow by sharing with each other.
================================================================
Copyright 2008-2014 BDSMTrainingAcademy.com. By reading and
accepting this article you agree to all of the following: You
understand that this is simply a set of opinions, personal
experience and anecdotal evidence (and not advice). You are
responsible for any use of the information in this article, and
hold BDSMTrainingAcademy.com and all members and affiliates
harmless in any claim or event.
================================================================
You must be 18+ years old to read this blog