"What is that?" slave said, forgetting her place.
"What is that?" Mistress glowered at her.
"I'm sorry, Mistress. What is that, Mistress?" the slave said
"Do you see the difference, slave?"
"Yes, Mistress," slave answered, sheepishly.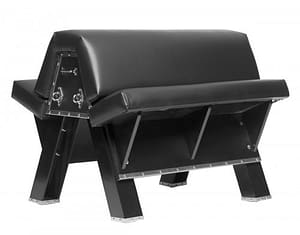 The bondage horse in the middle of the dungeon was imposing. Its black surface seemed to capture the light in the room while the metal rings reflected all the light away. She knew this was a test, as she starred at this gorgeously memorizing piece of furniture. As much as the sight of structure intimidated her, it caused her entire body to shiver in excitement.
Her mind raced with potential scenarios each one more devious and intense than the last. As she starred at the beautiful curves of the powerful Bondage Horse a feeling of doubt began to overpower her. The slave was unsure if she would be able to handle everything her Mistress had in store for her.
Seeing the worry being expressed on the slave's face, the Mistress spoke, "You are ready, slave. I know you are ready for what I have in mind."
Goosebumps instantly formed along the slave's skin as Mistress gently glides her nails teasingly along her slave's shoulder and back. Tracing her hand up the back of the slave's neck, Mistress gripes her slave's hair between her fingers. The slave instinctively closes her eyes and leans her head into the rigid hand. Feeling the slave give, Mistress pulls her head back further, forcing her slave's face to stare up at her.
"Now get up."
The slave nodded, keeping her eyes to the ground. The slave knew she should not have looked up. She should not have said anything. She knew she was going to pay for her insubordination. And she knew it was going to be a long night.
Mistress led her slave to the bondage horse by her hair. She positioned the slave at the end, and instructed her to climb on. As the slave's hands and knees sank into the padded edges, she felt the vinyl midsection gently caress her pussy. Already, her body was beginning to feel the tingle of arousal, it was always an uncontrollable reflex around her Mistress.
From behind, Mistress could see her slave's swollen pussy as it began to glisten from her juices slowly trying to escape. "I can see you are quite wet with anticipation, slave."
The slave nodded as her body instantly turned red. She could not control herself around her Mistress and with the fear and excitement of what was to come, she had lost any control she might of had.
"Instructional Position."
The slave complied, raising up her body, while folding her arms behind her back, her pussy slide deeper into the cushioning of the bondage horse. Keeping her head erect, with her chin up and her eyes down, she waited eagerly for her Mistress's next command.
"Open your mouth slave, I think I have heard enough from you today."
The Mistress took out a silicone ball gag and started to move toward her.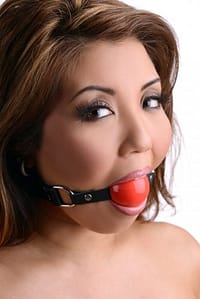 The slave nodded and opened her mouth as far as she could. The ball filled her mouth, forcing it to stay open as her Mistress closed the buckle at the back. She took a step back to get a better look at her slave and smiled at the beauty of what she beheld.
"Nice and quiet, just like a good girl."
The slave didn't move a muscle. Even if she was tempted to talk, she knew it would be impossible to do so. Her jaw could barely move and her lips were far apart. She began to feel the saliva form in her mouth.
"Now, lean forward."
The slave lowered her stomach back onto the horse and tried to adjust herself to be as comfortable as possible for the trail ahead. Keeping her head up, she locked her eyes onto a spot on the floor and focused on keeping her mind attentive to her Mistress' every movement.
The Mistress went to the end of the horse where the silver rings were screwed into the sturdy base. She pulled a rope from the table and tied the slave's hands to the end. She slowly walked around the slave grazing her skin with the rope as she tied each foot to the horse.
The slave was a beautiful image of elegance and submission as she laid completely still on all fours bound to the horse until her release. No matter what the slave did, each movement would rub her pussy over the vinyl, which was now swollen and throbbing as her juices desperately tried to escape.
"I do like seeing you in this position. But what shall we do next?"
The slave shuddered, unable to keep her body from shaking in anticipation.
"Perhaps, I should just let your stew in your own juices as I enjoy the view?"
The slaves mind instantly flew into a panic, desperate to ask for forgiveness. She knew not to move a muscle, but her body rebelled against her will as a wave of euphoric pleasure ran through her body. She loved the mind games Mistress loved to play with her. Her head rolled back as she fought herself from moaning.
"No, today we are going to work with your pain tolerance. We have discussed your desire to be able to take more pain in play. Let's see if we can't make your desires a reality"
The slave's entire body shuttered from the idea and that brought the biggest grin onto Mistress' face.
Mistress went back to the table where the flogger sat and pulled the suede leather though her fingers. Slow and easy would be the way this would start, but in the end, the slave would not be able to stop herself from screaming.
The flogger was light and comfortable, and perfect for a long session. The curves of the handle fit perfect within her hand.
"I'm going to trust that you'll let me know if things are too intense. But you are a strong slave who is willing to do my bidding, are you not?"
The slave tried to answer, but the only thing that came out of her mouth was a grunt and a pool of spit. The Mistress laughed and started to tease her skin with the flogger. As she slide a bell into the slave's hand.
"Since you can't say your safeword, if you ever need this too stop or something is wrong just drop this bell and I will consider it your safeword. Do you understand me slave?"
With the nod of the slave's head and a moan Mistress knew she understood.
"Now kiss my flogger to show me you are ready."
The slave desperately tried to stretch her neck to reach the flogger with her lips. All she could manage was a slight wet ball gag clumsily brushing the suede falls. Mistress laughed at the sight, which sent waves of pleasure through her head.
Slowly and steadily, the flogger's soft ends went up and down the slave's body.
The first strike of the flogger on her buttocks shocked her. Because the slave was attached to the horse and unable to move her neck as much as she usually could, she could not see her Mistress.
WHACK!
The leather hit their mark exactly where Mistress wanted it to, the flogger becoming a beautiful extension of her arm.
The flogger's seemingly innocent leather straps hit the skin quickly, each strap leaving a small red mark on the slave's skin.
WHACK!
Each strike, building on the last sending wave after wave of exquisite deep vibrations traveling through her body.
The slaves limbs tensing and relaxing with the anticipation of each new impact growing in intensity. The slave's skin becoming warm and red as the falls of the flogger continued to perform their dance on her.
The warmup went on for some time before Mistress let her slave know now she was truly going to be tested.
The slave's mind raced as she tried to breath and calm her mind.
WHACK! WHACK! WHACK!
The sharpness of the flogging started to take the wind out of the slave. Her heart was beating quickly and her eyes began to roll back into her head as she felt completely submerged in bliss. The skin began to burn and the slave started to move around, not being able to help herself.
The Mistress carefully looked at the slave to see how she was responding. Her skin was bright red from each hit, and the slave looked as though she was far away from the world.
"Come back, slave. I need you to be here. Count to ten for me."
The slave tried to clear her brain to count. Each time she said a number, the flogger would return. And each time she took a breath after, trying to take in the pain and to keep her mind focused.
When the slave got to 7, the Mistress started to flog her without a rest. Again and again, the leather hit her skin. The pain more intense and her skin aching for relief.
10.
After the last number was yelled out, the Mistress removed the slave's gag. Lifting the slave's head by her chin, she poured some water into her mouth. The slave desperately sucked back everything she was offered.
"You have done well, now time for your reward."
Mistress slowly walked around her sub, as she watched her intently to make sure her sub kept her composure. She could see her slave's breathing heavily as her mouth gasped for breath.
Mistress approached her slave's face, stopping within inches of her. She didn't dare move, as her reward might be revoked. Her body shook uncontrollably from anticipation, as Mistress gracefully turned around. Her beautiful round ass barely held in by her skin tight skirt.
"Open wide, slave"
Her slave, instantly complied opening her mouth as wide as she stuck her tongue out as far as possible. Mistress grabbed the bottom edges of her skirt and slowly pulled it up. Mistress' ass being freed from its confinement, revealing a lack of panties and fully exposed holes ready for worship.
"You know how I like it, slave. Show me, you deserve it."
Mistress took a hold of each ass cheek, and gently spread them apart. Her beautiful holes were slave's only focus, as they glistened from her delectable juices. Every second Mistress' holes inched closer and closer as she backed up toward her slave's face.
Slave could not resist any longer as the sight and smell of her Mistress was too intoxicating. Like a wild beast that had been caged for too long, she struggled against her binds, desperate to worship her Mistress. The moment her tongue tasted her Mistress, she let out an instant moan and cried out a muffled "Thank you, Mistress"
Clearly Mistress had taught her well, as her slave knew exactly what to do and instantly went to work according to past instructions. It only took minutes for Mistress to begin to buckle from the pleasure she was receiving. Grabbing her slave by the head she forced her deeper into her ass. Her slave's tongue becoming more frantic as she uncontrollably tried to gasp for air. But there was no reprieve, until Mistress had finished squirting every last drop into her slave's mouth.
Pulling herself away, Mistress stood up, pulled her skirt down and composed herself. Turning around she said "Don't you dare waste a single drop of my juices."
But Mistress never had to worry about that her slave had swallowed all of it and was already licking her lips to saver every last drop.
A Story By:
Master Bishop
P.S. If you enjoyed this story, please like, and share it with your friends.
---
Interested in the gear mentioned in the article please follow the links below:
================================================================
This is a work of fiction.
By reading and accepting this story you agree to all of the
following: You understand that this is simply a fictitious story
(and not advice). You are responsible for any use of the
information in this work of fiction, and hold
BDSMTrainingAcademy.com and all members and affiliates harmless
in any claim or event.
Copyright 2008-2017 BDSMTrainingAcademy.com.
================================================================
You must be 18+ years old to read this blog