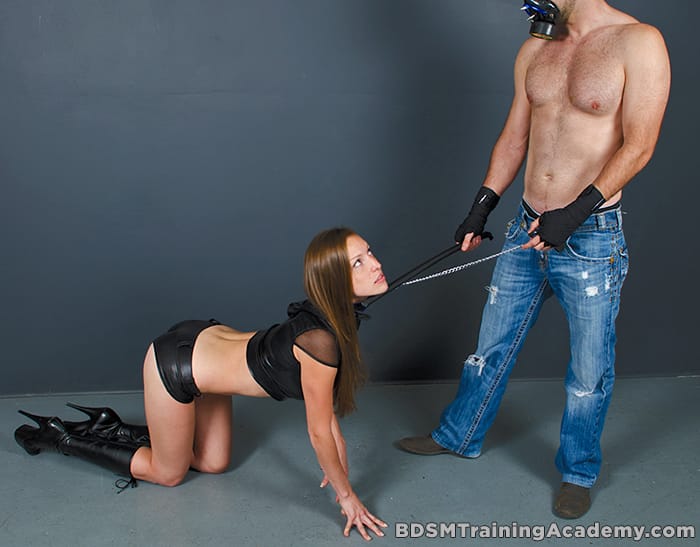 I was unable to focus the whole day in anticipation of this evening and what awaited me. My mind had been spinning as I stared longingly at the clock hoping that I could make time speed up. I had been dreaming of this for what seemed like my entire life and now the dream is about to become a reality. Finally, I looked up and it was time, the work day is and my real life can begin.
I didn't even stop to give my goodbyes as powered to the exit. Time was of the essence and I needed to make it home as soon as possible. I made it through the door with just enough time to prepare as I had been instructed.
The message was very clear and precise. Shower, shave, unscented lotion only, no perfume. Hair washed with light scented shampoo, dried and tied up in a high ponytail; wear the items I have laid out for you. Be in position on your knees waiting at the foot of the bed when I return home. Expect Me at 7:00pm.
Now in the quiet of my mind while waiting for Him to return home I'm reminded that each one of those agonizing minutes was worth the price to be where I am now. My senses sharpened to every sensation that is occupying the tiny world where I currently kneel. My mind locking onto each sound and scent, The click of the thermostat turning on to warm the room. The smell of warm air mixed with the masculine scent of His cologne still lingering in the room. Each stimulus causing my body to quiver in anticipation of what I have been longing for all week. Just barely noticeable, the distinctly beautiful smell of leather dances into the room. The smell teasing me with the memories of moments, fantasies, and desires yet to be explored. Taking me on a dreamy journey filled with secrets and oh so much more. I can hear the distinctive sound of metal chains, zippers and drawers being opened and although I cannot see I know they are the sounds of devious devices being selected and prepared for the task ahead.
I feel the pounding of my heart intensify, causing my whole body to begin to glow in feverish excitement as I listen and imagine each beautiful implement exquisitely laid out piece by piece. Each new piece of equipment causing my legs to weaken, as I imagine thousands upon thousands of potential outcomes to my current situation. Each one more powerful and gripping than the last.
I quickly snap out of my vivid day dream, as I hear the sharp metal sound of a key entering a lock moments before the door opens and slams closed. I can feel the power of each footstep growing as He approaches. Each step getting louder and more intense stopping directly behind me. Moments pass in silence, I keep my eyes closed, I can feel I am still flush from my daydream and my body shutters feeling His eyes on me, inspecting me, knowing i am breathless with desire and anticipation.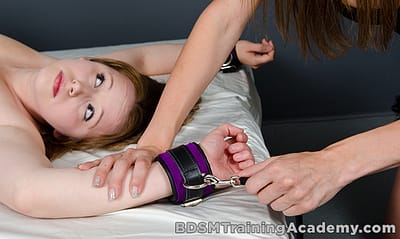 It feels like a lifetime before my hand is grasped and pulled behind me. The firm grip replaced with the unmistakable feel of soft leather. Shivers run up my skin as the leather slowly encircles my wrist and gradually tightens with each pull of the buckle. With each cuff secured in place their unyielding grip is a constant reminder of where my place is in this relationship. And with one final snap, my arms are restrained behind my back .
"Is this is what you wanted girl?"
"Yes, Sir" i reply.
"Do you trust me girl?"
"Yes, Sir."
"What are your agreed safe words?"
"Red,Yellow Green, Sir."
Grasping my hair i am pulled up off my knees, my head is forced on the bed in front of me, causing my exposed bottom to be lifted into the air. Feeling open and vulnerable I struggle against my restraints but to no avail. The strength of the bondage cuffs are too much. The unyielding grip of the padded soft leather remains bound around my wrists Their removal determined by the will of the person standing over me, watching me squirm at this very moment.
Suddenly a whisper fills my ear "Open your eyes sub?"
Without realizing that my eyes were still closed to the world around me, I slowly begin to allow the light to shine in, revealing the beautiful image that was in front of me. He was as strong and unyielding as the cuffs He bound me with. One hand tightly grasping a thick long black leather bound cane, just inches away from my face. While the other grasped the back of my hair forcing my eyes up to meet His.
The dim light in the room reflecting off the leather wrapped cane, a perfect extension of His strong hand produced a gorgeous vision of power and control so defined that It was palpable
I could feel my body responding, so drawn to this image to this beautifully devious device. He could read my mind instantly, as it was plastered all over my face.
"Show me girl, Show me that you want to feel this cane, show me that you are grateful for the attention, warmth and release this tool with bring you. Show me that you want what I can give you with this new tool." He said in his deep powerful voice.
I struggle to inch forward to kiss the cane being presented to me. As my lips press against the leather, I can feel the secret contained inside it. Multiple cords of bamboo shifting and bending beneath the leather sheath. A slight tap to my lips and I can hear the bamboo like a soft rattle inside. Like the rattle of a snake in warning of the strike yet to come, or perhaps in excited anticipation of their essential job ahead, to bring pleasure or pain.
As the cane is pulled from my lips, a giant shiver ripples through my body as I patiently wait for the orchestra of pleasure to finally commence. As instructed, I take my place bent over the bed, face down and my ass properly presented for easier access. Every muscle in my body tenses as I wait for the very first strike.
Breathe, I remind myself, don't tense just breathe. Then, the first strike lands. I feel the deep thud of the cane as it impacts squarely on the right cheek of my deprived bottom. The impact is solid and the warmth is radiating out along the cheek caressing the skin. The sound of the bamboo is like the soft timber of a baby rattle. Each sensation sending the message to my brain letting me know, I am exactly where I want to be.
"One, thank you Sir" I reply without a moment's hesitation.
The next strike lands on the left, "Two, thank you, Sir. With each magnificent strike I show my Dominant how I appreciate each impact, each warm caress and attention shown. By, thanking Him.
After 10 strikes I can feel my bottom getting hotter and redder. My body relaxing into the beautiful rhythm and warmth that is spreading throughout. I can feel myself beginning to float away on a cloud of warm comforting bliss. When He stops and whispers "Your body responds so beautifully to Me, but let's see how you enjoy this."
Moving me to the center of the bed my cuffs are unfasten from behind only to be restrained to either side of the head board. Face down I am once again instructed to raise my ass up and present it for His pleasure.
Suddenly, the cane begins striking my bottom in rapid succession. So many strikes coming so quickly that it is hard to distinguish between each individual impact. I can no longer keep count. I can feel myself instantly getting wetter and wetter, as the impacts turn into a deep vibration that travels down my body. I can feel my body reacting by desperately trying to meet the cane with each impact. My bottom reaching up between strikes begging for more, but wanting, no needing release, My legs shaking from the need.
He stops and demands, "What color are you girl"? "Green Sir, "Oh so very green Sir".
My brain is overwhelmed with so many emotions and sensations that all I can do is hold on as each strike brings me closer to the edge. My mind is spinning as it desperately tries to take in everything that is happening every emotion, every feeling of physical touch, every desire boiling up inside me getting ready to explode.
The deep, deep vibrations of each strike radiates from my red hot bottom to my ever growing clit. My clit begins to pulsate in time with each impact. The pounding vibrations pulsating faster and faster. So beautiful, so powerful, so overwhelming and my body screams for more. And then beyond all my resisting, my body lets go. Surrendering my body and desires to the overwhelming pleasure and relief. Surrendering to Him and his will.
As wave after wave of euphoric pleasure is forced throughout my body, my mind is overcome. My body shakes uncontrollably as it desperately tries to release the excess energy. My mind slowly beginning to be able to refocus and I try to catch my breath.
I finally notice that the caning has stopped, my arms are released and I am wrapped in a blanket. His warm arms wrapped around me as I sink into him. I try to gather my thoughts, make sense of what i just experienced, but my body is still riding high from the ecstasy coaster He just put me through. As my mind and body slowly calm down within his safe calming embrace, the tenderness of my ass begins to appear but it is only a reminder of what a wonderful time I just had. And the only thing I can think of is that I want more, more, MORE!
"Please, Sir may I have more?"
Such a greedy submissive…
A Story By:
Master Bishop & slave Kathleen
P.S. If you enjoyed this story, please like, and share it with your friends.
---
Interested in the gear mentioned in the article please follow the links below:
Premium Padded Leather Cuff Set
================================================================
This is a work of fiction.
By reading and accepting this story you agree to all of the
following: You understand that this is simply a fictitious story
(and not advice). You are responsible for any use of the
information in this work of fiction, and hold
BDSMTrainingAcademy.com and all members and affiliates harmless
in any claim or event.
Copyright 2008-2017 BDSMTrainingAcademy.com.
================================================================
You must be 18+ years old to read this blog