The fact that W/we are able to openly participate in BDSM and Dominant/submissive power exchange relationships is a true privilege. One many enjoy but few realize how grateful W/we should all be to have the freedom and the rights to be able enjoy O/our kinks. For many these intensely powerful experiences give an individual an opportunity to finally let go of all their worries and for once quiet their constantly overworked mind. It a moment to be in the here and now and bask in all your deepest desires. To lift the mask one wears in everyday life and finally be at peace with ones true self.

What I write here should not take away from that. Everyone should have the right and freedom to be able to enjoy their kinks. However, that is only half of a very important discussion. What is rarely discussed and for many becomes a taboo subject, is the other half of the discussion.

Rights are not free; with every right one chooses to live by one must accept responsibility to be able to enjoy that right.
I know talking about responsibilities isn't an overly sexy conversation and for many tends to destroy the care-free steaming hot fun from just giving into your kinks. But without taking responsibility, a fun carefree night can turn bad very quickly. So before you pick up that flogger, unwrap your rope and jump into mega Dom mode, ask yourself if you are ready for the responsibilities of being a Dominant.
It is easy to imagine all the perfect scenarios that can occur when fantasizing about your favorite kinks. Nothing ever goes wrong and each scene is a marvelously harmonized orchestra of debauchery. The real world on the other hand is far from perfect and every person has a different view on what make their kinky desires hum, increasing the difficulty beyond anything imaginable.
So how in the world is anybody ever able to freely able to experience deepest desires? The simple answer is by accepting responsibility of being able to experience them.
You have every right to enjoy impact play, when you are responsible in ensuring it remains safe, sane and consensual.
You have every right to enjoy BDSM, when you accept responsibility for anything that goes wrong and ensure sure the other person's needs both physically and emotionally are attended to and they are safe.
It is your responsibility to make sure you never repeat the same mistake twice.
You have every right to enjoy Domination, as long as you accept the responsibility of finding someone who wants to be Dominated by you.

Just because you are Dominant does not mean that everybody is your submissive
will want to submit to you or has any desire to be submissive.
A responsible person makes sure all play is consensual.

etc etc etc
This isn't the hottest subject to be talking about and I know this steamy discussion is not going to keep you from falling asleep tonight. That doesn't make this subject any less important and crucial to understand.
We do not have the right to any of our desires unless we accept the responsibility that comes along with them.
Our responsibilities as Dominants do not however end with just our right to enjoy our desires. Our responsibilities stretch out and include protecting and caring for the rights of the submissives found in our care.
Your submissive has the right to be able to express their submission. To allow themselves to become vulnerable in a way so few people will ever understand. To put all their trust in your hands that you will lead them to a better place and not do anything to harm them both physically, mentally or emotionally. In the world we live in a submissive has the right to live the way their were born to be, but that means you as their Dominant must accept responsibility of providing them with the environment and necessities their require to be able to freely live that life.
I hope you now see that it is your taking responsibility that allows for all those hot, intensely breathtaking, care-free experiences to happen in the first place. If you were not to take responsibility for the right to enjoy those moments, those moments would never happen in the first place. As you would be hard pressed to find a person willing to trust a Dominant so thoughtless and without trust you can never have another person's submission.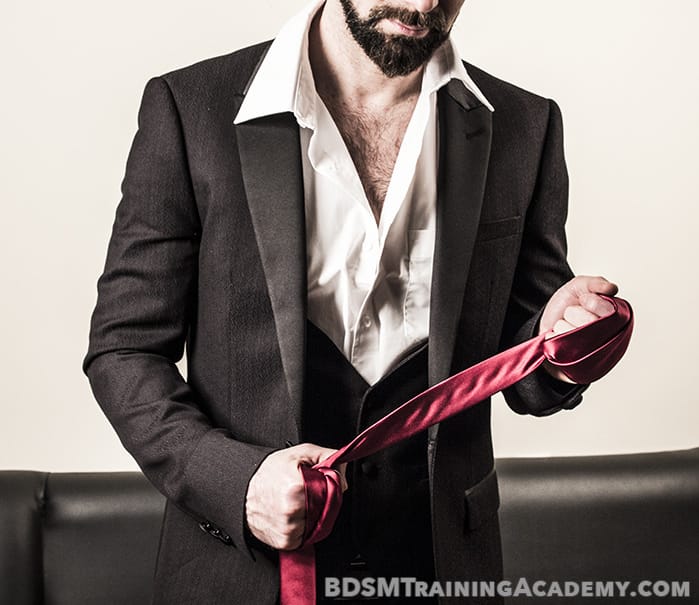 By Master Bishop
The founder of the BDSM Training Academy. Master Bishop has been involved in the Dominant/submissive lifestyle for over 20 years. With a love for education both learning and teaching, Master Bishop has passed on his knowledge and experience to others entering into the BDSM lifestyle for over 15 years.
Copyright 2008-2023 BDSMTrainingAcademy.com
By reading and accepting this article you agree to all of the following: You understand that this is simply a set of opinions, personal experience and anecdotal evidence (and not advice). You are responsible for any use of the information in this article, and hold BDSMTrainingAcademy.com and all members and affiliates harmless in any claim or event.
You must be 18+ years old to read this blog