By Mistress Ruth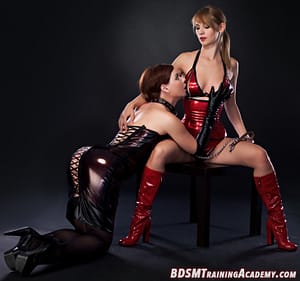 The summer heat hung heavy in the night air when I got a call from a new client. She sounded young over the phone. We spoke for some time about what she wanted and what I expected of her. I took down her address and got ready. As I drove up into the Hollywood Hills I wondered what she looked like. I arrived a few minutes early, as I always did, so I could mentally prepare. I rang the doorbell precisely at 9 o'clock and waited for her to answer. It only took a moment for the door to open… A blast of cool air hit me in the face, and she stood in front of me; the first thing I noticed was her hair, black and shiny as a ravens wings. Then I took in her face, she was stunning; translucent blue almond shaped eyes and alabaster skin. She was tall and slender and wore a black corset with red high heals and a red lace g-string. She was slightly taller than me, and couldn't have been more than twenty-five. "Please come in." She said politely. I said, "Hello." And asked where she wanted me. "Follow me." She motioned with her hand.
Her home was modern and spacious with stone floors, high ceilings and big glass windows throughout. A massive abstract painting hung in the entryway. Large white orchids were placed on a medium size round glass table in the middle of the room. Beautiful lighting and big white sofas were in the living room. There was a small bronze statue of a naked women placed on a low white marble coffee table where several candles were lit. It smelled of saddle wood and Vanilla.
"Can I get you something to drink?" She ask me as we passed by the kitchen. "No thanks I'm fine." I said. I followed her down the hall… and watched as her hair swayed across the middle of her back. There were black and white photos of her hanging on either side of the walls each illuminated by a single light. She stopped at the end of the hallway and stood in front of a red door which appeared to be locked. She took a key out from her corset and unlocked the door. She slowly opened it and walked into the dark room. I walked in behind her and set my things down on the floor. She turned on the light switch and the dimly lit room came into focus. A large Persian rug lay on the floor. The walls were covered in a deep red padded material that looked and felt like leather, which must have been for sound proofing. There were no windows.
She sat down on a smooth bare wooden table in the middle of the room which was about six feet in length and four feet in width. It looked like a center piece. Four wooden post with adjustable black leather straps with sheepskin lining the inside of each strap was attached onto all four post which held each corner of the table. A single red crushed velvet high back chair with big wooden carved arms sat off to the right of me. For viewing, I imagined.
I quickly started to undress when she asked me to slow down. I looked over at her inquisitively. "I just want to look at you for a moment." She said. She chose me to be her dominatrix because she liked my look. My hair was also black as night but short. She complemented me on my body and said that she liked my eyes. "You have pretty eyes. Green is a color that I love," Is what she said. I didn't say anything, and slowly and deliberately took off the rest of my clothes as I held her stare. She asked that I not come dressed in the clothes that I was going to ware in our session together.
I unzipped my bag and took out my other clothes and put them on while she watched me. I slipped on a pair of low cut tight black leather pants, I put a wide black leather sliver studded belt on, wide red leather wrist cuffs, a black leather bustier with black lace trim, over my pants, I put on a pair of black leather knee high riding boots, which had silver buckles that strapped across the top of the boots at the ankle and behind the heels.
I went to her and started to undress her. She had specifically requested that I do this. First I took off her underwear, then carefully undid her corset and put them on the red chair. I left her heels on. Once she was fully nude, I put a black leather collar around her neck. I had her lay face up on the table. I strapped each of her wrists to the posts and buckled them securely making sure that they were tight… I then did the same with her ankles. When I was done, I looked around the room to see all that I had to work with.
A variety of whips, crops, floggers, leather and wooden paddles, and canes hung on one wall. Bondage ropes, ties, nipple clamps and blindfolds hung on another.
Ball-gags, leather and latex masks, handcuffs as well as other restraints hung on yet another wall. Iron Leg and arm shackles, leather neck collars along with leather and chain leashes hung near by. And finally, ticklers, feathers and the like finished off the room. There were also several pictures of beautiful women in bondage hanging on the walls.
I took a red candle and a lighter out of my bag and walked over to the ball-gags and blind folds first. I chose mindfully. A black silk scarf would do for the blindfold and a red leather ball-gag would fit nicely between her beautiful-full lips. I walked over to her and saw that she was looking at herself in a mirror that hung by thick chains to the ceiling. It was the only mirror in the room.
"My rules are simple" I stated. "Never look me in the eye unless I give you permission to. And you are to always call me Mistress Rachel whenever you speak to me. Your safe words are the word Blue for your limit, and Black for stop. Once I put the ball-gag in you are to raise your index finger on your right hand for your limit and hold two fingers up for stop. Is that clear?" "yes Mistress Rachel." She obediently answered… Which pleased me. I placed the scarf across her eyes and tied it tightly behind her head. "Open your mouth please." I asked. She did so, and I put the ball-gag in between her perfectly straight white teeth and snapped it closed behind her neck. I purposely did not call her by her name yet, which was Jennifer. By not doing so enforced that I was the dominant and she the submissive.
While standing at her side I lit the candle and let it burn for a moment before tipping it sideways letting the wax fall. I held it over her breast and watched as the red wax dropped onto her nipples and breast. Her body jumped ever so slightly, the sound she made was muffled by the ball-gag. I dripped more wax onto her stomach and hip bones. The wax droplets were in stark contrast to her skin color which was porcelain white.
I blew out the candle and put it down, and took a feather tickler from the wall and stood over Jennifer's body and just looked at it. She had long slender legs that effortlessly blended into her shapely hips. Her waist was small and her stomach flat. She had a belly button piercing, a small silver hoop with a single diamond in it.
Her breasts were full and her shoulders were broad, What a beautiful specimen, I thought.
I continued our session by trailing the feather tip very slowly down her neck over her collarbones and around each of her nipples. She responded immediately. Her nipples hardened and she drew in a quick short breath. I took her nipples between my fingers and lightly squeezed them… then harder. I watched her stomach tighten and her hips raise. I continued down her body with the feather, around her belly button ring and down further between her inner thighs. She opened her legs at her knees and pulled against her restraints. I brought the feather back up between her legs and ran the feather tip across her clit. She moaned softly. I trailed the feather back up to her stomach and around her nipples once again. I lightly touched her between her legs with my fingers. She was completely shaven with just a small patch of pubic hair. She was already wet. It was time to change things up.
I put the feather back and grabbed a black suede flogger, about a foot and a half in length, with a red leather handle. I swung it through the air and across my hand as I approached her with it. I started at her feet, gently dragging the tendrils of the whip across and up each of her legs. Then I lightly whipped the inside of her thighs just enough to cause them to sting. She responded by opening her legs wider so I whipped them a little harder. I continued this until the whole of her legs looked sunburned. Again, I dragged the floggers fingers… this time on and around her pelvic and pubic area, and when she responded by lifting her hips I whipped her directly between her legs, repeatedly. Her whole body began to quiver. Her back arching sharply, I went up to her stomach and whipped her harder a half dozen or so times before whipping her breasts. Then I stopped suddenly. I took the ball-gag out, I wanted to hear her scream. I gently and softly rubbed her clit with my hand and started to masturbate her. She thrust her hips up and bit down on her lip. "Don't stop." She pleaded. I abruptly stopped. "You must call me Mistress Rachel when you speak to me. There are consequences for not doing so." I spoke sternly as I admonished her for disobeying me. "For your punishment I'm going to make you wait to come. And I'm going to use the crop on you. Do you understand why you are being punished?" "Yes, Mistress Rachel I understand. It won't happen again."
When I was satisfied that she understood, I put the ball-gag back in her mouth and took a black leather riding crop off the wall.
This time, I whipped her across her stomach and breasts, hard, without warning. She arched her back and pulled on her restraints.
I whipped her again. And again, until the skin on her stomach and breasts began to welt. Then I whipped her legs. Beads of sweat pooled on her chest and belly and fell from her body onto the table.
I put the crop down and took out the ball-gag from her mouth and untied the blindfold. Then I unbuckled the straps from her wrists and ankles. I gave her some water to drink. We weren't done yet.
"I want you to get back on the table and I want you to get on your knees and sit back on your legs." She immediately did as I asked. "yes, Mistress Rachel." "Now bend forward with you arms stretched out and put your hands on the table." I got a piece of rope from the wall and bound both her hands together with an intricate knot. I then clipped a chain to the rope on her wrists and secured the other end of the chain to a metal ring fastened at the end of the table. I picked up the flogger and ran my hand over her bare back to feel my canvas. Her skin was smooth and soft. Slowly I dragged the flogger across her body, then with the flick of my wrist I struck her with it. "Ask me for another." I demanded. "May I please have another? Mistress Rachel." I whipped her again and her body jerked, she asked for another, "May I please have another? Mistress Rachel." I whipped her on her ass, she moaned, I continued this until her back and buttocks were beet red. I went behind her and felt between her legs. She was thoroughly wet. "Raise your ass in the air for me please." I commanded. She obediently obliged. With my bare hand I spanked her several times. I ran my hand over her ass softly before spanking her again. She was so wet that I couldn't resist touching her. She pressed herself against my hand as I put my fingers inside of her. Her breathing quickened and she moaned deeply, audibly. "You're going to come for me now." I demanded. I withdrew my hand from her and climbed onto the table and positioned myself behind her. I put my fingers back into her and fucked her rhythmically, for several minutes, fast then slow, while I masturbated her clit with my other hand. "YES YES," She repeatedly said in a breathy voice. I didn't want her come yet so I slowed way down. "Oh my god!! Fuck me…! P-l-e-a-s-e! Fuck me harder… Mistress Rachel." "Don't stop!"
I continued teasing her while I let her beg me to let her come."I gave her my permission, "now you can come." I moved my hand faster and fucked her harder and deeper. Her hips rose and fell forcefully against my hand. "Yes…I'm going to come!" She shouted. I pressed my fingers against her G-spot with a pulsing motion and added more pressure on her clit and quickened the motion of my hand even more. Her body involuntarily tightened and stated to quiver. "OH MY GOD! YES! YES! YES! I'M COMING!! She screamed. "FUCK! FUCK! YES!" I kept my fingers inside of her until her body was still.
She was still breathing hard as I unhooked the chain from the table ring and had her sit upright. I touched her lips with my fingers to see if they were cold. They were… I had no doubts that she had come but I had to check. Yes, when a woman comes her lips get very cold. And that can't be faked. I took the rope that bound her hands together and untied the knots.
"You can get off of the table now." I told her. "yes Mistress Rachel." Her hair fell into her face as she climbed down. Her back and butt were still red from being whipped and spanked. "I'm very pleased with you Jennifer." I brushed the hair from her face. She smiled but did not look at me.
I took her by the hand and led her over to a thick black metal pole, extending from the floor to the ceiling, located in the back of the room. I positioned her standing with her back against it. "First I need you to put your hair up." She reached behind her head and gathered up all her hair and twisted it up on the top of her head into a bun. "Now put your hands behind the pole and keep them there for me." She did as I asked. "yes Mistress Rachel."
I took a long soft red braided rope from a hook on the wall and tied her hands together, looping the rope around and in between her wrist three or four times straightening and neatening them as I went along. I did this all the way up her arms. I then pulled the rope to the front of her body wrapping it around her chest in the same manner. A pattern began to emerge, like ladder rungs with two vertical lines running through it.
I kept methodically winding down and pulling the rope tight around her breasts, once again, straightening, looping and tightening the rope so that it lay flat. I continued down her body, her stomach, hips, and groin, wrapping, straightening, and tightening the rope making sure that it didn't overlap. When I got to her legs I ask her to hold them together. And I continued wrapping the rope down her thighs, knees, and calfs. Finally, I finished at her feet squaring off the last knot at her ankles just above her stilettos.
I stood back and looked at my work. I was very satisfied with it. I got the nipple clamps and placed them on each of her nipples which made her gasp. She could not move an inch. I put a blind fold on over her eyes and a black rubber ball-gag in her mouth.
I sat on the red velvet chair and watched her for a long time. She was motionless, trapped and at my mercy. I loved it. It turned me on.
I went to my bag and took out my camera and snapped a few pictures of her. Now I was finished. However, I still had to untie her. I took a sip of water and began the process of letting her out of her bondage. I kept her blindfolded and gagged while I undid all the knots. When she was free she held onto the pole and glanced down at her body, which was covered in rope marks.
"You can look me in the eye now Jennifer, we're done. Your session is over" "Thank you Mistress Rachel." She said as she looked right at me. She walked over to the chair and sat down and slipped her g-string on over her heels leaving the corset on the chair. She stood up and walked over to me and took my face in her hands and kissed me on the mouth. It surprised me at first. Her lips were soft and gentle yet generous, her tongue playing lightly with my lips. It felt good so I kissed her back. It was a nice way to end the session.
I gathered up my things and went to the door and opened it. Jennifer followed. When we got into the entryway she took money out of her wallet and handed to me. "Can I see you again Rachel"? "Of course you can. Just call me. You have my number."
She gave me a quick hug and walked me to the front door.
When I opened it the summer heat hit me. It was still hot out. As I walked to my car I could see the city lights off in the distance. It was a clear night, and the view was beautiful. I tossed my bag into the front passenger seat of my car and drove back down the hill into the valley below.
[vc_row][vc_column width="1/4″][vc_facebook type="button_count"][/vc_column][vc_column width="1/4″][vc_googleplus annotation="inline"][/vc_column][vc_column width="1/4″][vc_tweetmeme type="horizontal"][/vc_column][vc_column width="1/4″][vc_pinterest][/vc_column][/vc_row]