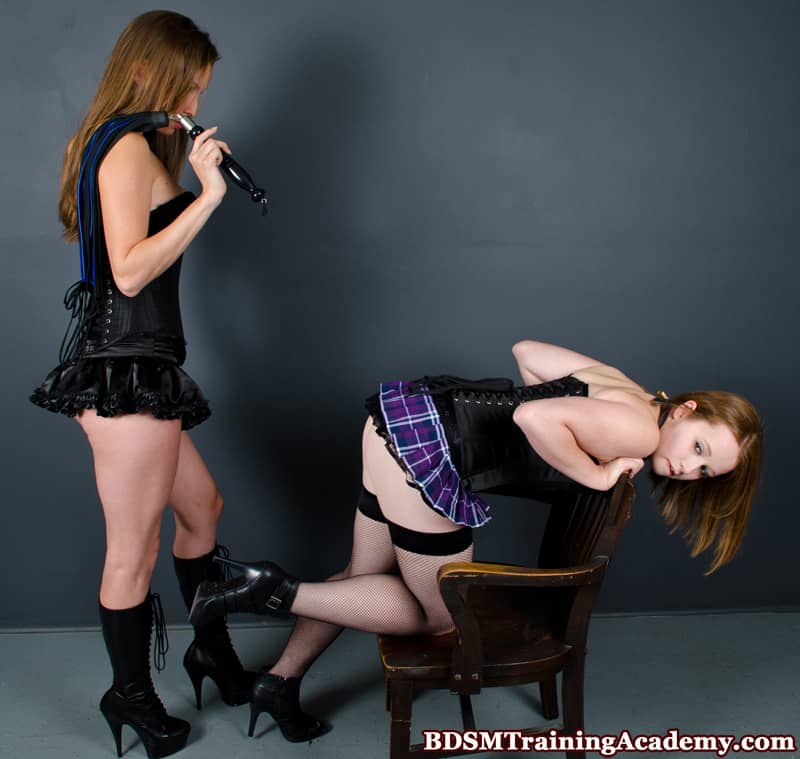 How do you use a flogger as a punishment, when a slave likes being flogged?
Anonymous
Master Bishop's Response
When a slaves like being flogged, sometimes, it's best for the Master or the Mistress to pull out another tool, not only to keep things exciting, but also to make sure the slave doesn't get too much pleasure out of something that is designed to teach a lesson. The flogger might be the preferred fun tool for many a Master (and Mistress), but there are certain ways that you can use it to be even more effective for dishing out a punishment.
But first you should understand why and how to properly punish your slave before ever moving forward with any form of physical discipline in your slave training.

When you're using a flogger for the first time for punishment, you need to make sure this is still something the slave has agreed to be used (ie within the Dom/sub contract). A punishment flogging can be intense, and deal a large amount of pain, when used correctly. Therefore, make sure your sub has agreed to be punished in their training and by this method.
That said, here are some things that you can do when you are using a flogger on a slave as a new form of punishment. (And trust me, a flogger is a great tool, even if it's not as sharp as a whip).
The Punishment Flogger – Have a special flogger that you only use for punishment and make sure your sub knows that you don't like bringing out this flogger unless they have really disappointed you. This will give you a psychological edge, as the sub will know they have really disappointed you and that they are in for a harder flogging the minute you grab this specific flogger.
Choose a harder leather or rubber flogger – While there are a number of materials that a flogger can be made of, a harder leather flogger or a rubber flogger is actually the most intense on the skin, in my opinion.
The thinner the falls of the flogger, the stingier they will be – If you can find a flogger that has thinner falls, this will help to make more impacts at the same time and create more of a sting rather then a thud sensation.
Move your body with each swing – When you swing your flogger with your arm, you can only generate a force from your arm. You can actually generate more impact when you twist your body as you swing the flogger. Now you are able to generate force from your body and arm.
Move back – The farther back you are from the slave, the more impact you will have on your slave's body. As you are able to generate more force, the further the flogger has to travel.
Find a spot – Stick to just one spot when you are hitting a slave with a flogger. This will add to the sensations that the slave is feeling, and that will add to the overall punishment impact.
Repeat, repeat, repeat – The more that you flog a person, the more painful and ouchy it will become. Continue to hit the same areas over and over and over again, watching them get red and sensitive.
The flogger is something that is easily used by a Master or Mistress for extended periods of time. Though the Dominant's arm will eventually get tired, but it can be worth it to see a slave wriggle around, even though they were so unflinching at the start of the punishment.
Switching up punishment tools now and again is a good idea because it allows a slave to realize that the Master or Mistress is always the one in charge. Even thought the slave might have had something in mind or were mentally prepared for, the Dominant can change it back to something the slave didn't expect or at least wants to avoid.
Pain is a tricky thing and some slaves may need to have different tools used on them for pleasure or for pain. Follow the link to learn more about BDSM Slave Training Techniques.
Regards,
Master Bishop
P.S. If you liked this article, please take a minute to e-mail
your friends and let them know about it. Thanks!
Copyright 2008-2023 BDSMTrainingAcademy.com
By reading and accepting this article you agree to all of the following: You understand that this is simply a set of opinions, personal experience and anecdotal evidence (and not advice). You are responsible for any use of the information in this article, and hold BDSMTrainingAcademy.com and all members and affiliates harmless in any claim or event.
You must be 18+ years old to read this blog