Your role as a slave might change all the time. One day you might be in a scene where you need to move around a lot in order to please your Master/Mistress and the next day you might be strung up in bondage and told not to move a muscle. Simple examples, sure, but these do demonstrate the different needs and goals in being a slave. So, when your Master/Mistress wants you to move from a part time to a full time slave, you might be curious as to how to approach this transition. Though your Master/Mistress will certainly help you with this move, you will also want to prepare yourself as much as possible to ensure you are able to be the best slave possible.
***************************************************
Why You're Changing Duties
***************************************************
If you've been asked to move from a part time slave to a full time slave, chances are good that you're doing something right. While this might also be a sign that your Master/Mistress feels you just need more training, realize that most Dom/mes who want to have more slave training time are doing so because they enjoy their slaves and they want to make the relationship more substantial. For this moment, congratulate yourself and feel the pride your Master/Mistress wants you to feel. At the same time, think seriously about the commitment this will mean for you as a slave. You will need to give up more of yourself and more of your time to please your Master/Mistress. Think about whether you are truly ready to make this commitment. If you are not, let your Master/Mistress know before you sign up for this new life and new slave position.
***************************************************
The Troubles of Full Time
***************************************************
Full time slavery is something that changes not only who you are, but who you are in the rest of the world. In many cases, you will not be heading out of your own accord, so if you're a person who values their freedom, this can be a rocky transition. You might also find that you are resentful of your Master/Mistress at first because they are going to be in control of more areas of your life – but isn't this what being a slave is all about? Right now, you will want to realize and to recognize that your feelings are normal and that they are certainly going to continue as the days go on. But the more you settle in and accept your new role, the more easy it will be to be the slave that your Master/Mistress wants you to be – more of the time.
***************************************************
A Long Term Approach
***************************************************
Looking at being a full time slave is like looking at a long term career. Each day, you need to try your hardest to be a good slave, but realize that you are going to be with this person a large amount of time, so perfection may not be necessary at every turn. That said, this does not mean you simply give up since you're going to have more hours in the day to be a good slave. Instead, you will want to work on looking at slavery as a process, rather than something you will 'get' overnight. As a long term and full time slave, you will become frustrated at times with your progress, but stick with it. Though you will have down times, realize that you have more opportunities to show your Master that you can be taught and you can be trained.
Choosing to move into a full time slave role is not something you should do quickly. Take some time with your Master/Mistress to see if this is an arrangement which could work for you. A trial run of your new position is a good idea to see if your full time slavery dreams are just as hot as you thought they would be.
=============================================================================
>>>For more ways on how to develop the type of Dom/sub relationship that you want go to Dom/sub Relationship Guide
=============================================================================
Regards,
Master Bishop
support@bdsmtrainingacademy.com
P.S. If you liked this article, please take a minute to e-mail
your friends and let them know about it. Thanks!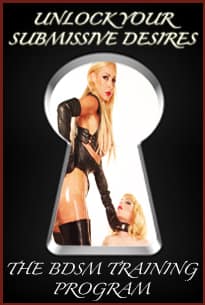 ================================================================
Copyright 2008-2012 BDSMTrainingAcademy.com. By reading and
accepting this article you agree to all of the following: You
understand that this is simply a set of opinions, personal
experience and anecdotal evidence (and not advice). You are
responsible for any use of the information in this article, and
hold BDSMTrainingAcademy.com and all members and affiliates
harmless in any claim or event.
================================================================
You must be 18+ years old to read this blog