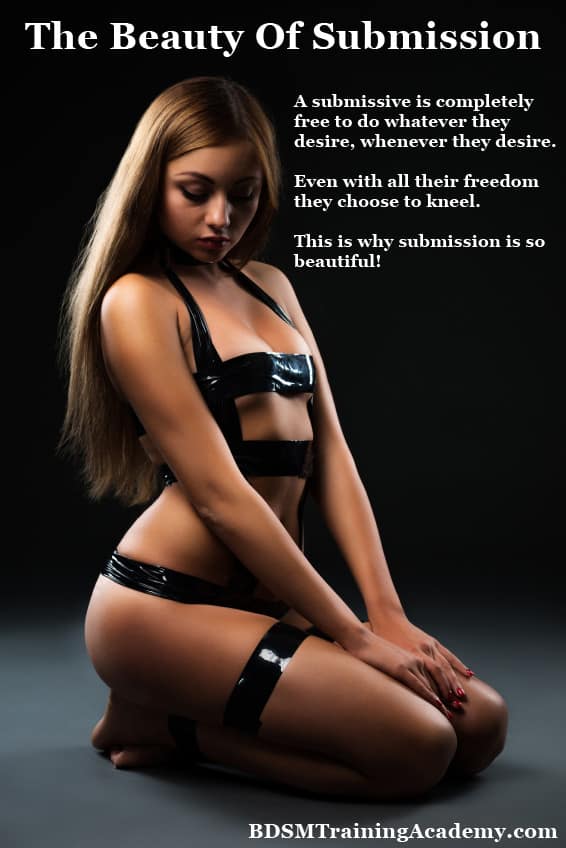 So many people view BDSM and Dom/sub relationships to be these dark evil lifestyle choices, that strips one person of all their power, choice and freedoms. This in fact could not be further from the truth.
I believe the problem might be that many people view these images through their own eyes. They assume that a person must be under severe duress to do any kind of submissive act, because they personally would need to be forced under duress to do such a subservient act. What they are forgetting is that this world includes a variety of different people. Each individual enjoys life different and as long as those interests are legal then they are free to enjoy them.
"We don't see things as they are, we see them as we are." – Anais Nin
A Dom/sub relationship is meant to be a healthy loving supportive relationship between two consenting adults. While one person may see the submissive as powerless, most if not all submissives see their submissive activities as empowering. It takes an incredibly strong person to absolutely trust another person so as to become completely vulnerable. *(Nor should you make yourself that vulnerable or trust so completely to just anybody.)
One person views submission as the elimination of choice, while many submissives believe it is the ultimate choice. BDSM is not forced slavery, every person that enters into a Dom/sub relationship in this day and age does so of their own free will. With all the choices a free person has, the fact that they choose to serve another is breathtaking.
Just because it is not a choice that you would choose, does not mean you can criticize another for their choice. Do W/we all not search for meaning in O/our lives? To find something that feels natural, makes U/us happy and comes freely?
For many submissives, serving allows them freedom from their own ego, and self. A state of enlightenment millions of people struggle to achieve.
To Your Continued Journey,
Master Bishop