Step Inside And Discover Your Kinks For Yourself
I continually receive emails and comments at The BDSM Training Academy about how BDSM is a form of abuse. I find it very upsetting, especially when we try so hard to educate people on how to incorporate a safe, sane and consensual form of BDSM here at the Academy. BDSM is meant to enhance and strengthen a healthy, loving relationship.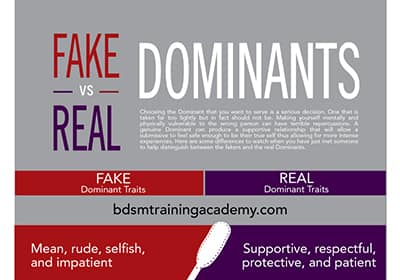 Choosing the Dominant that you want to serve is a serious decision. One that is taken far too lightly but in fact should not be. Making yourself mentally and physically vulnerable to the wrong person can have terrible repercussions. A genuine Dominant can produce a supportive relationship that will allow a submissive to feel safe enough to be their true self.
Can't Find What You Are Looking For?
When I first found the kink world, I suppose what I was looking for was direction. As a submissive, little, and pet, having a guardian in the lifestyle and life was something that appealed to me. What I discovered after finding myself in lackluster partnerships, toxic pairings, and uncomfortable situations was that a part of me was looking for someone to lead me because I