The bag is pulled roughly over my head as strong arms lift me unceremoniously from the ground. I'm manhandled into the back of a vehicle, pushed to the floor, and held down as my wrists and ankles are tightly bound.
I let out a panicked scream and a large hand clamps my mouth shut. Through the rough material, I can hear a muffled male voice telling me to keep still and be quiet. I'm scared, I can't see anything and my heart is racing. The engine starts up and we drive off into the black of night. I'm not sure where I'm being taken or what's going to happen to me. I am helpless and at the mercy of my abductor.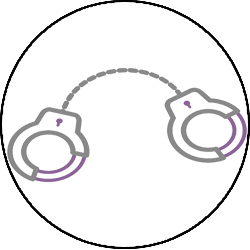 What is Abduction Play?​
Not everyone likes the idea of being captured, tied up, and helpless, but for some the consensual fantasy of abduction causes an undeniable ripple of excitement. Abduction play involves BDSM players engaging in the staged capture and imprisonment of a partner, or a group of people.
Abduction play often involves bondage and sensory deprivation and can also incorporate elements of punishment, interrogation, sexual violation (including rape), intimidation, humiliation, and slavery. Those involved often choose to dress up to reinforce the scene. Captors might opt for police or military uniforms, or dress all in black, topping off the look with leather gloves and threatening masks.
Exploring Consensual Non-Consent
Abduction play falls under the category of CNC (consensual non-consent). This form of edge-play attracts controversy as some believe it doesn't sit well with the SSC (safe, sane, consensual) BDSM mantra. However, if done correctly, CNC is not only safe but also a great deal of fun.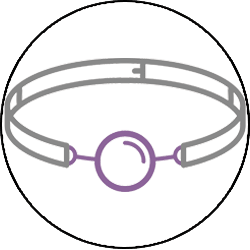 Getting the Most from Your Abduction Scene
Not everything in life always happens exactly how you envisage it. You can pack a splendid picnic, and settle down on a grassy knoll, only to be disrupted by a herd of meandering cows. Occasionally, things just don't go to plan!
Sadly, BDSM play doesn't always live up to expectations either (especially if it's a fantasy you've been toying with for a while), but there are a few things you can do in advance to help you make the most of your scene, we'll explore that more now, start by asking yourself:
What Do You Want from Your Abduction Scene?
For BDSM play to live up to your expectations, you need to understand what your expectation are! Sounds simple, doesn't it? But we often overlook our own desires to fulfil the wishes of others. If you want to get the most from your scene, you both/all need to enjoy it. Abduction fantasies can be intense, so before you do anything else, ask yourselves, what do you want?
This is not the time for bashfulness, discuss your ideal scenario with your partner/fellow players and ensure communication is open and honest. Here are a few things to consider that may help to shape your scene:
Outline, Prepare and Plan Your Abduction Scene
You know what you both/all want from the scene, but how is it going to play out? You don't need to come up with a detailed step-by-step outline (writing a script is taking it a bit far)! But it's a good idea to get the gist of the scene, like any good story you'll need a start, a beginning, and an end. We've put together a few scenario ideas for you, you'll come across them later on.
The key to any successful scene lies in preparation and planning, and when it comes to abduction play, you're going to need to do both in abundance if you want to provide your "abductee" with an authentic experience. You'll need to consider
Weigh Up Potential Pitfalls
To get the most from your abduction scene it's a good idea to identify potential pitfalls. Let's face it, things do go wrong from time to time, but you can plan ahead and you can recover when things don't go quite right. Here are a few pitfalls to watch out for:
Put Together an Abduction Kit
Once you've got your concept nailed down and have addressed the risks, you can think about your abduction kit. This needs to be organised and packed ahead of time so that everything is to hand when the big moment arrives. Some items you might want to incorporate:
Give Plenty of Thought to Aftercare
Aftercare is an essential part of BDSM play, as the name suggests it comes after the scene and offers the perfect opportunity to reconnect, reassure and return to reality. Abduction play is emotionally and psychologically intense, so you'll both need to come down from the ledge. Gentle touching, talking, cuddling, sharing a drink and verbal praise can all work well.
Aftercare needs vary from person to person so talk about what you both need during pre-scene negotiations. Here are a few ideas for your aftercare kit:
Fantasy Versus Reality
You've packed your abduction and aftercare kit and you're both raring to go. But when, where, and how are you going to carry out the abduction? What will you do with the captive once you've captured them? There are plenty of scenarios to explore, here are a few to set your creative juices flowing: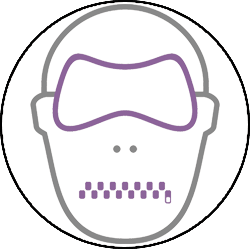 Fantasy Versus Reality
No matter how much you plot and plan you can't be 100% certain about how the scenario will go. You might have thought about your abduction fantasy in minute detail over the years, but the reality might prove different.
When you're engaging in intense play you might experience equally intense emotions you're not prepared for. The abductor might feel alarmed by the victim's distress or worried they will hurt their victim too much. These heightened emotions might prevent the abductor from relaxing and enjoying proceedings.
Similarly, the abductee might feel overwhelmed by being pushed around. A scene might break down due to excessive emotions and result in upset or even nervous laughter. If this happens it's not the end of the world! Enter into aftercare and when you're feeling comfortable have a chat about what went well and where things went off plan. You can always give it another go at a later date.
Building the Foundations of Superb Seduction Play
Interested in trying out abduction play? Or any other fantasy? Then you're in for a treat, providing you build solid foundations before you dive in for fun. We've covered the main points – consent, communication and negotiation (don't forget the safe word), preparation and planning.
When you're planning a more extreme session, such as abduction play, you might want to start slowly (especially if you're new to this type of fun).
Kick things off with a few sessions of power play, such as tying with a rope or blindfolding and gagging. You can both weigh up how you feel, and determine how to tailor the play to suit your needs.
This should set you on the right path to ramp things up, preparing you for the sort of emotions you might feel when you engage in abduction or other edge play. Happy kidnapping!
By Astolaine
A submissive in a 24/7 TPE marriage spanning twenty years, astolaine strives to serve and obey her beloved Sir. However, she does have a playful, bratty streak - which occasionally gets her into trouble. A fan of exploring the bright, bold world of kink, astolaine and her Sir regularly indulge in play, attending parties and events to complement their dynamic.
Copyright 2008-2022 BDSMTrainingAcademy.com
By reading and accepting this article you agree to all of the following: You understand that this is simply a set of opinions, personal experience and anecdotal evidence (and not advice). You are responsible for any use of the information in this article, and hold BDSMTrainingAcademy.com and all members and affiliates harmless in any claim or event.
You must be 18+ years old to read this blog