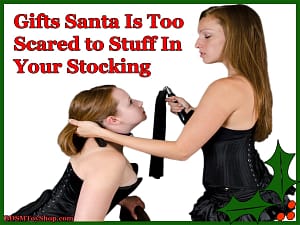 December 25th approaches faster then most people realize and finding a gift that your partner will absolutely love becomes more difficult every year. It's always gives you such a good feeling to watch your partner unwrap their present only to see their jaw drop and eyes widen in absolute excitement when they realize what an amazing present you gave them.
What type of present can create such a response:
1) A gift that shows your thoughtfulness. Something that shows you know and understand your partner's true desires
2) A gift that your partner has for many months or years longed for. Something special that they could not afford themselves or felt it was too extravagant to spend their limited resources on.
3) A gift so beautifully manufactured and crafted that the sight of it takes your partner's breath away
4) A gift so unique that it is not even something they even new existed
Of course, an even better gift is one that combines a few of the above features.
Instead of wasting your time wondering aimlessly throughout the mall hoping beyond hope that you might come across something your partner will like. Or returning to the same stores to buy the same thing year after year. Listen to your partner's true desires and give them what you know they want this Christmas.
That is if they haven't been too Naughty this year.
Don't worry I'm not going to leave you empty handed, here are a few gift ideas to help you out this Christmas season.
Many People Like Something That Sparkles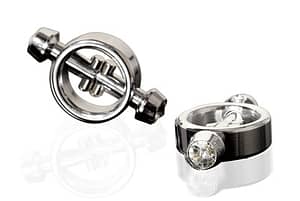 Not only are these magnetic nipple clamps pretty to look at, they look even better when clamped onto your submissive's nipples. Pretty and useful, what submissive wouldn't love this in their stocking. Cast in high quality steel and hand-polished to perfection, these jeweled gems are equal parts art and pleasure. The hygienic metal finish is sleek, nonporous, and easy to clean, while the design is body-inspired and made to excite.
Better Then A Candy Cane
While this cane looks intense in the hands of a Dominant, it feels even better for the submissive receiving the caning. A very popular toy because of its diversity as a cane and the different thud sensations that can be felt upon impact, instead of the intense sting that most canes produce. The Beginner Cane was designed for three main purposes:
1) To provide a less intense caning to new submissives or a submissive scared of canes. The beginner cane always a submissive to get used to being caned without overstimulating them with the sharp pain of a regular cane.
2) Give a Dominant new to caning a chance to learn using a cane that is more forgiving and kinder. Especially when a mistake is made.
3) Since the beginner flogger produces a softer thud, this cane is actually a great toy to use to warmup your submissive's body before moving onto more harder impact gear such as floggers, paddles and canes.
A Little Light For Your Festivities
The Twilight Wand will not only it lighten up any of your scenes, it is a shockingly good gift idea. A continuous low current, high-frequency flow of electro-stimulation, which produces highly erotic feelings throughout your body. A variety of intensity levels are at your control so you can find the suitable setting that will take you or your partner to the peak of orgasmic bliss.
The Twilight Wand Kit is a contemporary way to electrify your senses as well as a stimulating delight for the eyes! Simply attach your desired electrode, dim the lights, and watch as the ambient light flows from the wand through to your chosen destination.
Made With Care And Your Needs In Mind
While Santa is off playing many of his more naughty elves have taken on the job of making some quality and highly durable bondage gear that they know you will love. Pride and individual care is taken into creating each cuff to ensure a secure, strong, long-lasting, and comfortable fit. These cuffs are not mass produced, every effort is taken to produce the highest quality for each individual cuff.
Premium Padded Leather Cuff Set
Hang Your Stockings With Care
A true honor for any submissive to be confined and displayed for their Dominants pleasure. This incredible bondage device is made of sturdy leather straps, designed to enfold, enclose, and ensnare your subject. The solid platform base allows your partner to stand inside. As they step on the leather wrapped wooden platform, the weight pulls the crisscrossed leather straps downward, trapping your subject inside. The mechanism is similar to how a Chinese finger trap works. Once inside, your partner is caught and at your mercy.
If these items are not on your Christmas shopping list, don't worry there are 350 other kinky items at the BDSM Toy Shop. I'm sure you will be able to find something that will help to make your holidays more jolly and festive.