[vc_row][vc_column width="1/1″][vc_column_text]As her Dominant approaches, she slowly lowers herself down to her kneels. Bowing her head, she lowers her gaze to the floor just glimpsing the tips of his toes in freshly polished Italian leather shoes. She can feel her face become warm and flush as her excitement rises in anticipation for her Dominant's touch.[/vc_column_text][/vc_column][vc_column][vc_row_inner][vc_column_inner width="1/4″][vc_facebook type="button_count"][/vc_column_inner][vc_column_inner width="1/4″][vc_googleplus annotation="inline"][/vc_column_inner][vc_column_inner width="1/4″][vc_tweetmeme type="horizontal"][/vc_column_inner][vc_column_inner width="1/4″][vc_pinterest][/vc_column_inner][/vc_row_inner][/vc_column][/vc_row][vc_row][vc_column width="1/1″][vc_column_text]His normal embrace doesn't come. Instead his hand lightly caresses her check, as his fingers fall down along the lines of her neck. His touch sends waves of electricity shooting through her skin, raising shivers that ripple throughout her body. Her thoughts instantly jump to images of what she wants her Dominant to do to her. To feel his firm grip around her, the pull of her hair, and the sting of his hand across her bottom; flash in her mind and send waves of pleasuring flooding into her body.
With her mind distracted, her Dominant takes her by the hand and slowly raises it in line with her chin. With her eyes remained locked on the floor, her arm stretched out and palm down, she can't see what her Dominant has planned. She can only wait for what he might do next.
Within moments, she feels the cold bite of metal encompassing her wrist. With a sharp snap she hears a clasp locking into place, a noise she connects with her submission and pleasure instantly.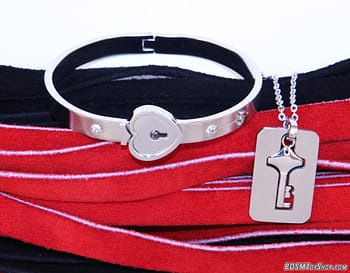 Gently raising her chin with his hand, her eyes look upon an beautifully small and elegant bracelet locked around her wrist. As the light bounces off her wrist, a key attached to a long chain swings beside her new bracelet. A shiver runs down her body as she realizes that they only way this bracelet will ever come off is with that key. A key that slides around the neck of her Dominant to be kept safe.
For the first time in her life all the weight of the world is lifted as a giant sense of relief floods her body. The feeling of being completely owned and protected is so overwhelming that she starts to feel dizzy and light headed only for her Dominant to support her by holding her close against his body.
"You are forever Mine" her Dominant whispers in her ear
A search she thought might only have been a figment of her imagination has finally come true. This is what she has needed her entire life.
The bracelet is a symbol of her Dominant and a constant reminder of his love, support, protection and Dominance. Nobody will ever know the true meaning of the bracelet, but the true meaning will give her strength every waking moment of her life.[/vc_column_text][/vc_column][/vc_row][vc_row][vc_column width="1/2″][vc_single_image image="3696″ css_animation="fadeInLeft" border_color="grey" img_link_target="_blank" img_size="300×258″ link="http://www.bdsmtoyshop.com/product/the-forever-mine-submissive-bracelet/" image_hovers="true"][/vc_column][vc_column width="1/2″][vc_empty_space height="32px"][ultimate_heading main_heading="Show Your Submissive That She Truly Belongs To You" main_heading_color="#dd0000″ heading_tag="h2″ alignment="center" spacer="no_spacer" spacer_position="top" spacer_img_width="48″ line_style="solid" line_height="1″ line_color="#333333″ icon_type="selector" icon_size="32″ icon_style="none" icon_color_border="#333333″ icon_border_size="1″ icon_border_radius="500″ icon_border_spacing="50″ img_width="48″ line_icon_fixer="10″ main_heading_style="font-weight:bold;" main_heading_font_size="24″ sub_heading_style="font-weight:bold;" sub_heading_font_size="20″ sub_heading_color="#000000″]Give Her The Experience That She Has Been Searching For[/ultimate_heading][dt_button link="http://www.bdsmtoyshop.com/product/the-forever-mine-submissive-bracelet/" target_blank="true" size="medium" style="default" button_alignment="center" color_mode="custom" color="#dd3333″ icon_align="left"]The Forever Mine Submissive Bracelet[/dt_button][/vc_column][/vc_row][vc_row][vc_column width="1/1″][/vc_column][/vc_row]