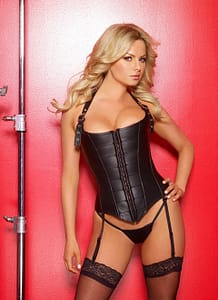 While no one knows the exact origins of the corset, some evidence has shown simple corsets were being wore in Ancient Greece. The use of corsets became more evident around the 16th century but did not become popular and a common article of clothing until the early to mid 1800's. It's purpose was to cinch a waist to help form the extremely small waist desired on women of the period and enhance the feminine curves. It was quickly discovered that some women enjoyed the sensation of being 'held' or 'hugged' and it was believe that a corset could also improve back problems. While not an everyday article of clothing today, corsets still play an important role in most Dominant and submissive relationships.
Since it typically takes time and effort to get into and out of a corset the simple act of dressing or undressing can take on a whole new aspect, and is a large part of many couples foreplay. For the submissive being dressed in a corset by their Dom/me, they can feel the gradual increase in control with a sense of comfort in the restriction. The submissive dressing a Dominatrix in a corset, can pleasure of serving their Dominant and getting them ready for the session ahead. A perfect warmup to any Dom/sub session.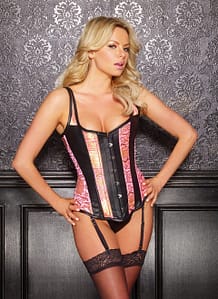 When wearing a corset outside of the bedroom, the wearer will need to be more careful of how they are moving in their day to day lives. This acts as a constant reminder of the slave's position in the relationship and can also create a sensation of constant control that can be an everyday task or a special request from the Dominant.
In addition, corsets are an accepted form of everyday wear at certain events, so the wearing of one can be a public display of the slave's obedience to a Dominant, even if it is not expressed to others that are present. A slave that wears a corset out to a club, for example, will need to move in a dainty manner as well as be easily controlled by others who might touch or hold them.
For Domme's a corset is perfect for enhancing a woman's shapely curves and accentuating the beautiful lines that make a submissive drool. Not many submissives can resist a Dominatrix in a beautiful corset. In fact, the corset has become a staple of both the Dominatrix and submissive wardrobe because of the elegant shape and vast variety of designs.
With corsets, you can add a special glamorous touch to your bedroom play or to your public appearances. In any case, corsets can be used as simply decoration or for more intense play scenes. With each movement, the slave is reminded of their corset and the control that it is inflicting on them. For the Dominatrix, it radiates her beauty and power.
The one problem with corsets can be the price. One corset can range from $350 – $800. This means that most people only have one corset sitting in their closet. Variety tends to be the spice of life when it comes to Dom/sub sessions. Pulling out the same corset day after day can become boring quickly. Stop spending a fortune on corsets and limiting your fetish fashions. Have a look at O/our selection of Beautiful and Elegant Corsets. This way you can have a number of different corsets within your wardrobe, so you can bring a different flavor to each session you have.
Click Here for Dominant And Submissive Corsets
For plus sized corsets have a look at O/Our Diva Corsets
Regards,
Mistress Brianne
================================================================
Copyright 2008 BDSMTrainingAcademy.com. By reading and
accepting this article you agree to all of the following: You
understand that this is simply a set of opinions, personal
experience and anecdotal evidence (and not advice). You are
responsible for any use of the information in this article, and
hold BDSMTrainingAcademy.com and all members and affiliates
harmless in any claim or event.
================================================================
You must be 18+ years old to read this blog