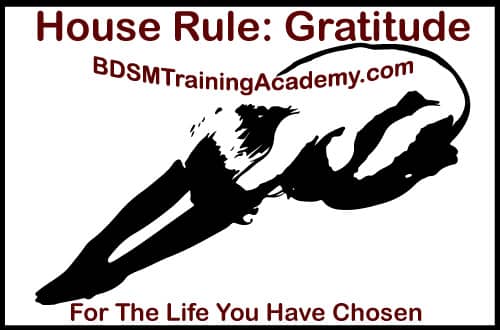 At the BDSM Training Academy this house rule applies to both Dominants and submissives.
Submissives
Submissives must be grateful that they are able to live the life that they chosen. The keyword being that they chose this life and therefore they must be grateful they are able to live those dreams, as many submissives never get to realize their desire, let alone be able to live it. and have requested that their Dominant provide them.
They must be grateful that they have a Dominant that protects them, cares for them and allows them the opportunity to serve and live their submissive life.
Each morning coming to the position displayed above the submissive must repeat what they are grateful for in their life and why. Again this task must be repeated before bed. This task must also be repeated every time the Dominant commands.
Dominants
Dominants must realize that gratitude does not begin and end with submissives. Without a submissive, a Dominant is Dominant of nothing. A submissive can choose many different paths in their life. They can choose not to be submissive, they can choose to serve a different Dominant. A Dominant must always be grateful that a submissive has chosen to submit and serve them.
A good Dominant will remind themselves of this fact multiple times throughout the day and repeat what and why their are grateful for their submissive.
Single Dominants And Submissives
Many people suppress their desires and never realize what it is that they truly want. They also allow others to tell them that their desires are wrong or that they must be sick to enjoy such a thing. Even though you may not currently be able to live the life you desire, by knowing and recognizing the kind of life you want to live is a massive step. Be grateful that you are no longer conflicted or confused by your desires and have you are at peace with your true self.
Life will reward those who live in continuous gratitude
[vc_row][vc_column width="1/4″][vc_facebook type="button_count"][/vc_column][vc_column width="1/4″][vc_googleplus annotation="inline"][/vc_column][vc_column width="1/4″][vc_tweetmeme type="horizontal"][/vc_column][vc_column width="1/4″][vc_pinterest][/vc_column][/vc_row]
================================================================
Copyright 2008-2016 BDSMTrainingAcademy.com. By reading and
accepting this article you agree to all of the following: You
understand that this is simply a set of opinions, personal
experience and anecdotal evidence (and not advice). You are
responsible for any use of the information in this article, and
hold BDSMTrainingAcademy.com and all members and affiliates
harmless in any claim or event.
================================================================
You must be 18+ years old to read this blog