Adding bondage to a power exchange relationship increases the feelings of control and restriction between a Master/Mistress and slave. Not only are you entrusted with their safety, but you're also given the power to determine when they will be released. No matter what the goal of your training program is, bondage will enable the slave to sink even more deeply into the realization that they are the one who is powerless. The more you incorporate bondage, the more they will relax into the experience and give themselves over to you.
How to be Safe with Bondage
If you are new to bondage make sure you learn about what you should never do during bondage.
Before you can start to use bondage in your scenes, you will need to have a clear understanding of how to keep your slave safe. You can do this by:
Using bondage gear – When your slave is new to bondage, using bondage gear like leather cuffs is softer and more comfortable making bondage easier to handle. The buckles also allow for easier bondage setup and release encase something goes wrong or the person in bondage becomes unexpectedly upset. They also allow a scene or session to continue for an extended period of time as softer bondage gear does not cut into the circulation like rope does.
Using cotton or hemp rope – If you're ready to move to the next level of bondage, binding with cotton or hemp rope will be more comfortable, while still being secure. These natural ropes will hold the skin and also slightly loosen to give room for circulation.
Practicing on yourself – You might try different knots and ties on yourself first to see what it feels like and how it might feel on your slave. See what will hold and where you might need to seek out more training to be effective.
Remembering about blood flow – The key to safe bondage is to make sure you're not tying so tight that the slave's blood flow is restricted. Keeping about a finger's width of space between the skin and the rope will help. The person tying must be in constant communication with their slave to ensure they are ok: make sure they still have sensation in their fingers and toes, is their breathing changing, is their mental state being affected. They must also maintain an active lookout for any signs of restricted circulation (limbs turning blue) and any other physical changes that might indicate that the slave is no longer able to handle the bondage.
Knowing sensitive areas – Try to avoid tying a slave up around their bony areas, joints and their neck. These are areas where you can easily do damage while movement can cut into the bones and other necessary structures, e.g. the windpipe.
Negotiate beforehand – Always talk with your partner and know what is on and off limits. This is key to SSC and RACK practices within BDSM. Once you have both agreed, always stay within the agreed upon limits.
Having a safe word – In all scenes, it's a good idea to have a safe word or movement to help alert you to when your slave is in pain or when they are having trouble with the restriction.
Slow and easy is the best way to begin bondage, and it will help keep the scenes fun and intense, without causing permanent harm.
Have the Slave Direct the Bondage
Another way to make a scene intense is to have the slave direct what they want to have tied up. This shows they are in control of what happens, but that they also trust you to keep them safe. Encourage them to direct exactly what they want to have bound and how tightly they want to be bound.
Once they're tied up, point out how they have given themselves over to you, how they have surrendered. You can then tease them to orgasm or use implements of pain and pleasure on them to show how the bondage keeps them from moving – while also intensifying their experience. When the slave can't move, they are just along for the ride.
Be in Control of the Bondage
The first scene you can do is to start by letting the slave know how you are going to bind them. While this might seem like it's ruining a surprise, it also allows them to know what is going to happen—which actually intensifies the scene. "Now I'm going to tie your wrists together." You ask the slave to put themselves into your hands, to be tied up so they can't move.
You can start with the wrists and the ankles, moving their arms in front or above their head. You can also tie them to a chair or to a post in a room. Once they're in position, you might point out how helpless they are and how you could do anything to them.
Asking for Certain Actions When They're Tied Up
If you have a slave in bondage, you can then do a number of things to show them just how helpless they are.
Have them try to escape – A fun game is to try to have the slave get out of the bondage. Watch them wriggle around and try to free themselves until they are exhausted and they sink even more deeply into your control.
Have them try to move out of the way – You can also tie the slave to a stationary object (e.g. a heavy chair, a post, a table) and then tease them or punish them. Tell them they need to move out of the way if they want to avoid the sensations, and remind them that they are only going to get free when you tell them they can be free.
Have them try to focus on counting – You can also tie a slave up, blindfold them, and then have them count to a certain number while you do other things to their body. They will need to focus their attention, but they will also notice they can't always focus when their body is not able to move. A paddle to their buttocks or breasts can shock them since they're not able to get out of the way and they also don't know when the next hit is coming.
Have Them Perform A Task – There is nothing like tying up a slave and watching them struggle to complete a task you have given them. Tie your slaves around and legs and make them pick up berries you have dropped on the floor and put them in a container with their mouth. Watching them wiggle their way around as they make a mess of things is always an enjoyable scene. Of course, always be an arms length away to ensure your slave's safety and release them quickly if need be.
Make Them Beg – With your submissive bound, have them beg for what it is that they want. The only way you will give them what they truly want is if they please you with the way they beg. While bound the only way for them to get it is by begging more and more. Of course the longer you make them wait the most desperate the begging will become.
Role play – You can also engage in role play at this point. The slave might be kidnapped, for example, and you are the captor. They might be the damsel in distress on the railroad ties, and you are the one who is making sure they are in danger.
Be in a public setting – You can also have a slave wear a piece of rope around their waist or their wrist to remind them that you are going to bind them or that you have been their captor. This will keep their mind focused on the fact that they are bound to you in more ways than just with rope.
The more you play with bondage, the more you will be able to see your slave sink into trusting you and giving over their body to you.
Do you have any fun bondage games that you enjoy playing? Please share your favorite games in the comments below.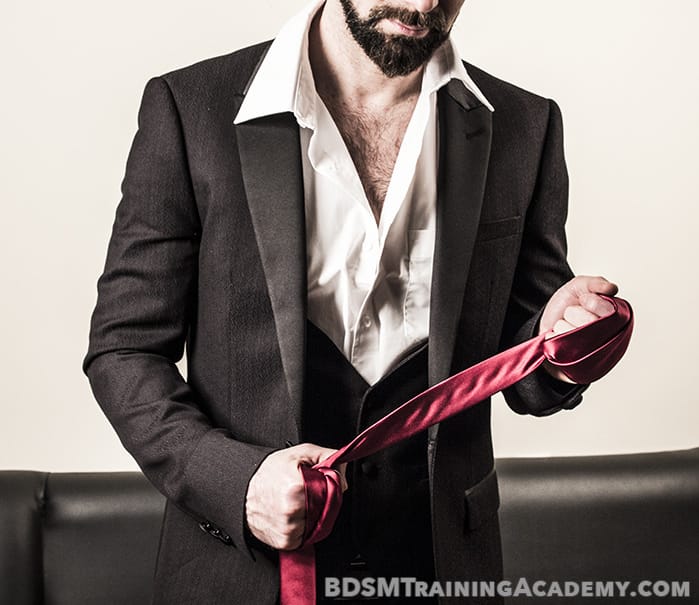 By Master Bishop
The founder of the BDSM Training Academy. Master Bishop has been involved in the Dominant/submissive lifestyle for over 20 years. With a love for education both learning and teaching, Master Bishop has passed on his knowledge and experience to others entering into the BDSM lifestyle for over 15 years.
Copyright 2008-2023 BDSMTrainingAcademy.com
By reading and accepting this article you agree to all of the following: You understand that this is simply a set of opinions, personal experience and anecdotal evidence (and not advice). You are responsible for any use of the information in this article, and hold BDSMTrainingAcademy.com and all members and affiliates harmless in any claim or event.
You must be 18+ years old to read this blog