Loving the slave mini course. Really had changed my way of viewing the BDSM lifestyle. How do I get my husband to be more interested in it? I think he feels creepy. I've tried to get him to read more about it so he can see it's not all dungeons and pain. He's used handcuffs on me and he loves to spank! But I'm having a bit of trouble moving him from those positions. I really want to be dominated by him. I just think he feels silly cause he is very dominating out of the bedroom.
Any suggestions would be great!
Kelly, Melbourne
========================================
Bishop's Opinion
It's very common to ask how you can get a spouse or a partner into the BDSM lifestyle. After all, it's exciting and fun and you want to share it with the person with whom you're most connected. But the truth is that there is no guarantee that your husband will ever be 'into' it. I just need to say that first.
However, you should be happy and grateful that he is even willing to try it. Most people that discover their interests after marriage can't even get their partner to consider giving any type of BDSM a try. So the simple fact that your husband has listened to you, not judged you negatively and is willing to be open to the idea of trying things is a major success.
Clear Communication Is Essential
The best way to begin expressing your fantasies to your husband is to clearly talk about what turns you on and why it turns you on. It is crucial to explain the "why" of your desires. Sometimes, when a partner understands the motivation behind being tied up or spanked, they might be more willing to try it out. In their mind they might see spanking a person as abusive or tying someone up as freaky. Explaining why you like it might help to show your partner a different way to view these activities and how truly pleasurable you find them to be. Since your partner probably wants to make things feel better for you, this is an opportunity for you to let them know how they can easily do that. Chances are good they will be a little more eager to do so once your remove the stigma surrounding such taboo fantasies. Once they see your reaction, they might be inspired to do more and more.
However, if you truly don't understand your own desires it can be extremely difficult to try to convince someone else of why they should want to give it a try. Before you have that all serious talk, try going through the questions in BDSM Starts With You, to make sure you can clearly communicate why it is that desire what it is you desire.
It sounds like you've tried to share your fantasies, but perhaps it's a bit much for him and he's never done anything like this before. First, don't share everything. Start off slowly, it is easier to mentally digest and accept small pieces of information than it is to be overwhelmed with everything all at once.
For example:
One thing I absolutely love is the feeling of your hand as it smacks my ass. The vibrations travel through my ass and I can feel the vibrations all the way to my pussy. It makes me so wet and hot with each spank. Once he is comfortable with this and enjoys performing this activity, try suggesting something else.
It is small baby steps and each step really isn't that difficult. You are giving your partner time to slowly get comfortable with these new ideas and activities.
It is much easier to accept then to be bombarded by everything all at once. For example:
I want you to flog me until I am black and blue while suspended from the ceiling while you call me "your dirty whore" with your fist in my ass.
Can you see that would be a bit much all at once?
What I would suggest is having shorter sessions of things you want to try. After you've talked with him about what you like and why you like it, let him know you would like to try ___________. This might be spanking or handcuffs or some other fun BDSM activity. Set a timer and see what happens for 15 minutes the next time you're in an intimate situation.
This helps in a few ways.
1. It allows your partner to have a sense of what you would like to try.
2. You then have a prescribed time period in which your partner needs to be involved.
3. It gives you both a chance to see if you're a good fit for this sort of play together.
It might feel a little forced in the beginning, so if this is the case, then find a story or a video that might serve as inspiration. Just try out being the characters and acting things out, even if you're not feeling them 100%. This will help you both forget about what you're 'supposed' to do and just be a part of a fantasy scene.
You might end up laughing, which will diffuse the tension, or you might end up getting into it because you don't have to think about the right thing to say.
Explain The Benefits To Them
Far too many people when communicating their desires with their partner only share why they like it and why it turns them on. They never even mention why it would be beneficial for the partner to give this activity a try.
For Example:
Nothing makes me wetter than when you pull my hair as you are spanking me. My whole body feels like electricity is running through it. I can barely resist jumping on your cock, nothing makes me want to be fucked harder by you than that.
When you pull my hair, all I want to do is fall to my knees and taste your cock in my mouth.
It is a lot easier to see the point of trying something new when someone can see what it is they will get from it.
Which brings me to a powerful strategy, link your desires directly to their favorite/strongest desires. Lets say your partner's favorite activity is anal sex, but what you really want is for your partner to tie you up, and spank your ass. Let them know, that when you are tied up and your ass is red it really turns you on for anal. The benefit for your partner to do what you want is to get something they really want, tends to be a win-win for both parties. After a few sessions, your partner will start linking bondage and spankings with their favorite activities and they will begin to be turned on by the idea of those activities as well.
Ask Them What Concerns They May Have
There are many things that can hold back a partner from wanting to try BDSM and kink related activities.
Some potential feelings could be:
They might hurt you which is something they don't want to do
Only perverts and sickos do things like this. You have to be mentally ill desire these things, please read or have your partner read BDSM is no longer considered a mental disorder
It will change your relationship for the worst
They don't really know what to do
It makes them feel silly or foolish
The thing is you won't know what it really holding them back until you ask them. Let them know you won't judge them, but you want to help put to rest any concerns or issues they might have with trying something new. Be open to hearing them, communication about your fantasies and desires is not a one way street if you want your partner involved in them.
Reassure Them
No matter what concerns your partner has make sure you give them the help and support they need to feel comfortable and safe enough to overcome these concerns.
A few things that you should discuss and reassure your partner:
You know they do not want to hurt you and if they do hurt you by accident, everything will be ok. You are not going to get upset and blame them or accuse them of abuse. That you will both work through resolving any issues and if heaven forbid if you do get hurt, you will work together to figure out a way that it doesn't happen again.
There is nothing wrong with them wanting to do this or not wanting to do this. You know that they are an amazing person and by them wanting to do this it does not make you think less of them. In fact, it strengthens your relationship as you build your intimacy together. If they don't want to do this that is perfectly acceptable as well as what really matters is being with them.
This is something you are asking for, you are the one wanting this. Taking part in your desire that you have requested will not be used against them in the future, if things don't go as planned (as they usually don't) you will do everything in your power to make your relationship better through the good and the bad.
Fulfill Their Fantasy/Desires
You have desires and fantasies and I'm positive that if your partner has a pulse they have desires and fantasies as well. You might want to ask your partner about their fantasies. Don't expect a partner to fulfill your fantasizes if you have zero interest or desire in fulfilling theirs. If you want open non-judgemental discussion and participation in making your fantasies a reality, you need to make sure you are giving your partner the same opportunity.
Ask him what they like and have always wanted to try – and then try it (as long as its safe, sane and consensual). Then ask him for something – and then you can try that. It's not about trying to make all of your sex about BDSM, but more about making sure everybody in the relationship is having their needs met and desires fulfilled.
The more you can help each other have the sex lives you both want, they will more than likely be willing to reciprocate in terms of fun and unexpected adventures in the bedroom that meet your desires.
Now, if you find all you do is fulfill their desires and fantasies and they refuse to even try anything you like, well than you are just with a selfish lover and you need to ask if that is something you can handle and accept. Of course, if you are asking for something your partner feels endangers you and/or their safety, than perhaps you need to suggest a different desire.
Write A Fantasy That Involves Them
Another way to ease a partner into the things you want to do is to write up a fantasy you have of them that discusses your fantasy. This will allow them a rare opportunity to truly see into your mind and to see what you want to do. When people can see a fantasy of themselves laid out, they tend to want to live up to that fantasy and they might be less inhibited about trying.
It can also express to a person new to BDSM, exactly what they need to do. This helps them overcome the anxiety of having to figure out exactly what they need to do or exactly what it is that you want. Think of it as a plan for them to use to make sure you get what it is you want.
Let them read the story and see what they think of it. Don't ask them anything about it, just let them sink into your fantasy. They will most likely come back to you in a few days with questions or they might simply surprise you with acting it out one night. Of course, pleasuring them while they read it wouldn't hurt their desire for the fantasy either.
Don't Always Make It About Your Fantasies
You don't want to create a situation that impacts your relationship, so it might be wise to request that you try something new once a month or every couple of weeks, but the rest of the time is for your typical sexual activities.
What this will do is show your partner that you're not interested in them only because you have a certain goal in mind. When they can be reassured that the BDSM fantasy isn't about being dissatisfied with the sex life you already have, your partner will begin to think of these added activities as enhancements to your love life.
Be Realistic
Fantasies never end up as good in real life as they are in your head. Even tried and tested highly experienced Master can't live up to a fantasy that has been brewing in a person's mind since they first discovered their true passions. So make sure you keep your expectations in check.
Remember, your partner likely has zero experience with BDSM. They might only have ideas about what it's supposed to be like. You are likely going to have to hand hold at the beginning until they become comfortable, which can take away from the fantasy a bit. But remember while they may know you, they have only recently discovered your desire for this new activity that does not mean they truly know how you want it or how to do it. All that takes, time, patience, education and practice.
While your partner might be dominant in their everyday lives, they might not feel like that in real life or they might be that way out of necessity but it is not who they are. They could prefer being submissive in the bedroom because they are Dominant everywhere else. Or I hate to say it, they just might not be into BDSM. Not everyone is going to be and that is just a fact, there is nothing you can do to change that.
These are all things to think about.
What you need to remember is that some people will take to BDSM, and others will not. No matter what you do, some people just may never create an interest in your desire or be able to fully pull out the True Dominant nature your desire. Just try to slowly ease into these conversations with your partner, this way you will begin to create a dialogue, instead of making it sound like a correction or an order.
Since your husband has already shown that he likes to spank you, my guess is that he is going to come around pretty quickly, and probably step into a more dominant role. Encourage him when he does take control, let him know how much you like it. Everyone likes praise, and everyone will respond to it.
Allow this exploration into BDSM to be something that happens slowly and you'll both enjoy the new way you've opened up to each other.
Have you ever had to tell your partner about your kinky desires? What did you do? How did you help introduce them to BDSM? What did you find helped and what didn't help to open your partner up to trying BDSM? Please feel free to share it in the comment section below.
W/we can all grow when W/we share what W/we know.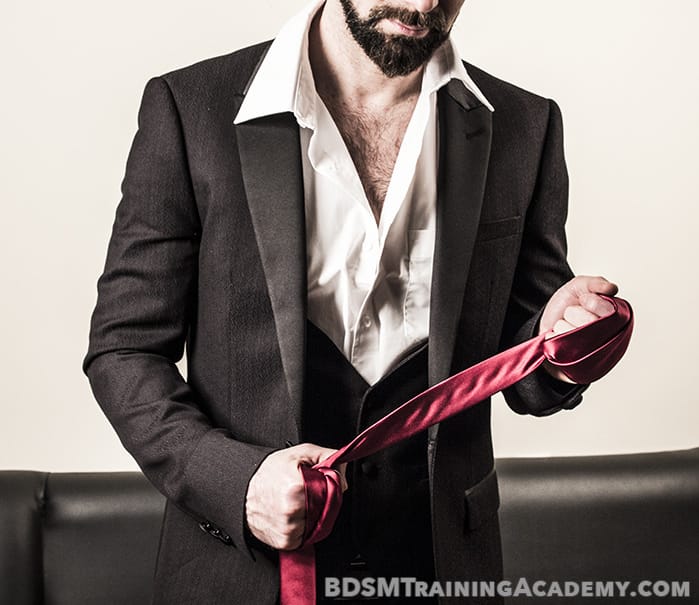 By Master Bishop
The founder of the BDSM Training Academy. Master Bishop has been involved in the Dominant/submissive lifestyle for over 19 years. With a love for education both learning and teaching, Master Bishop has passed on his knowledge and experience to others entering into the BDSM lifestyle for over 14 years.
Copyright 2008-2022 BDSMTrainingAcademy.com
By reading and accepting this article you agree to all of the following: You understand that this is simply a set of opinions, personal experience and anecdotal evidence (and not advice). You are responsible for any use of the information in this article, and hold BDSMTrainingAcademy.com and all members and affiliates harmless in any claim or event.
You must be 18+ years old to read this blog