Sometimes, your slave needs to more restriction, put in their place even more than you have done so already. But what is the best way to keep a slave from having the choice of being able to move around without bondage be limiting on the time a slave can be within it?
A cage can be a great investment for a Mistress/Master who just wants keep their slave in their place. When you get a cage for your dungeon or for your living room, everyone will know who's in control – you. Though a slave cage might be an expensive investment, it often pays dividends you did not expect.
If Your Care Please Share
When You Need a Cage
Just as with many BDSM toys, you might not need a cage at this point of your slave's training. They might only need more bondage or a tougher attitude from you. But if your slave has done well in their training, though they seem to still forget they are a slave, a cage is one of the best tools you can use. This cage will keep them in a confined area, plus you can leave the room without worrying they are going to harm themselves. When a slave is squeezed into a cage it is very clear to even the most forgetful slave where they fall in the relationship hierarchy…as a slave!
Instant Subspace
While the cage can be an intimidating and scary piece of BDSM furniture for many submissives, others have an instant and warm affinity towards it. For these slaves the cage is an essential part of their lives. It is where they feel safest, and is the one place where they can always just be who they were always meant to be. While the cage can be confining for some it is completely freeing for these slaves. They welcome its comforting embrace and need it when at their most anxious.
So don't be shocked when these slaves begin requesting extra time in the cage.
For people who identify more as pets then a submissive or slave, the connection between the cage and puppy or kitten should be obvious. Their natural instincts call for the cage. Many pets love having their cage time as it causes the pet to forget their human life and worries before that cage door closed behind them.
The Essence Of The Slave Cage
Your slave might go willingly into the cage, thinking this will simply be a fun way of being bound and trapped by you. And it can be if that is how you choose to use it, but it can also be a serious instrument of training.
You should make sure that you buy a cage that is going to hinder their movement as much as possible and still allow them to get inside the cage easily. Watching them crawl into the cage is some of the fun and a moment to be enjoyed after all.
You should also use a padlock to keep the door secure, as well as cable ties to secure any other edges which might be loosened by moving around in the cage. Make sure that when that door swings closed, your slave is locked inside with no way out until you decide to let them out. This way the slave will learn very quickly their only means of escape is through pleasing you and that is where the fun truly begins.
Uses Of The Slave Cage
How you choose to use the cage depends on your slave and where you are in training them.
If your slave has perfected their oral skills (penis, vagina or anal) and you need to make pleasing you more difficult, the cage is a perfect obstruction from being able to perform how they normally would.
Perfect for training a required skill, just lock your slave in place and instruct them on how to perform to your satisfaction. Whether you let them practice on your glorious body or force them to learn on an instrument of your choosing like a dildo or fucking machine as you instruct from the side.
Enjoy their body and holes for your most carnal of desires. The bars might prove to be a hindrance for you, but this is where the slave will learn to become a more active participant. Either they will learn to aid you in satisfying your desires or they will be left wanting.
Who doesn't like just looking at their exposed and vulnerable slave immobilized and desperate for use. Take this moment to just soak in all their submissive beauty.
As stated above, for some the cage can be a slave or pets get away safe space. Let them enjoy their quiet time in peace.
Need a break from your bratty or ill behaved slave, consider cage time a more restrictive time out. Let them stew in their own juices until they have decided to behave before you let them out again. (A cage should not be used as a punishment for a slave/pet that finds comfort from cage)
The perfect center piece at any BDSM themed party for all to enjoy
A device of humiliation that can cause many a slaves to instantly blush all over
Pick Your Favorite Position & Lock Your Slave In It!
My favorite Cage due to it's versatility that lives up to your creativity!
Lock their head between the bars, so you can easily train their mouth to perform the way you want!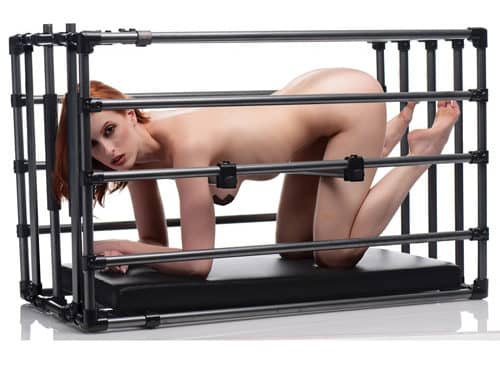 Positioning bars allow you to prop up their booty, feet, or chin, but you can also use them to keep their head, shoulders, and waist pushed down. Achieve the exact look that gets your blood pumping hardest and gives you best access to the holes you want!
This Cage Adjusts To Your Training Needs!
Keep Them
Locked Up
Restrained
Immobilized
Safe
With So Many Ways To Enhance Your Training
Sit on the opening on the top of the cage and allow your slave to worship whatever body part you choose to place within reach.
Leave in the comfortably padded leather-like board for extended role play sessions or to let your slave comfortably rest within their safe space.
Remove it to satisfy their masochistic desires during training or punish a naughty pet when they are bad.
Making the Cage a Punishment
It never hurts to dress your slave up like a dog or some other outfit that they find humiliating when they go into the cage. You might want to take pictures or make sure that you are treating them as they should be – with a bowl of water, food in a dog bowl to eat, etc. This is their place, after all.That is if they find humiliation to be a punishment and they find these acts humiliating. Otherwise, this will not be an effective punishment.
Many slaves need and want to be as close to their Master/Mistress as much as possible and find any separation to be a serious punishment. Locking a slave in a cage away from their Dominant can be a bigger teaching moment than any other punishment. Understand how to punish your slave here
Dominants who want to make their slaves feel more isolated to increase the effectiveness of the punishment might want to put their slaves into the cage in a room with the lights out or with a blanket over the cage. So long as the cage doesn't have any sharp edges and the slave is able to breathe easily, it should be safe for a slave to think about their bad behavior for a while without you in the room. They will certainly not be bad after that punishment.
With a slave who needs more confinement in their life to improve their behavior and help with their learning, a cage is a must addition to your space. This tool can be easily covered by a blanket when not in use or it can be put in a corner of a house without drawing too much attention – especially if you have a dog already. If not, no one is likely to ask too many questions.
Regards,
Mistress Sophia
Copyright 2008-2023 BDSMTrainingAcademy.com
By reading and accepting this article you agree to all of the following: You understand that this is simply a set of opinions, personal experience and anecdotal evidence (and not advice). You are responsible for any use of the information in this article, and hold BDSMTrainingAcademy.com and all members and affiliates harmless in any claim or event.
You must be 18+ years old to read this blog