Sometimes, you just need to switch things up and you need to make your slave feel all the more helpless than they already do when they are serving you in your dungeon. You've done the traditional bondage methods and you've begun a training program, but you need to test your slave even more. This is where armbinding can be a useful tool. Restrictive and immediate, your slave will be reminded in every moment that you are the one that holds the key to their freedom.
Why Armbinding is Used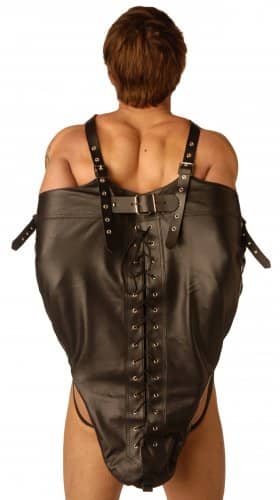 Interestingly enough, armbinding is not something that Masters first came up with for their slaves. The original intention was to prevent a prisoner from switching up their handcuffs to the front when they were cuffed behind their back. When the arms are completely bound, the hands can not be moved under the feet. The arms stay in place and can even be bound so tightly that the elbows can touch behind the slave, causing them to be completely and utterly helpless. Armbinding also works to make the arms useless in a scene and can work well in a hogtie or in a mummification scene to help make the bondage all the tougher to manager. To make sure that the slave is able to be comfortable, they are going to have to control their mind and their muscles. It's a perfect test for a disobedient slave or just someone who tells you they need more.
Create Your Own Armbinder Device
While it might seem like you need to invest in something expensive in order to try out armbinding, this is not the case. You can create your own armbinding experience, with different levels of bondage and movement restriction. You can start first by using rope or cuffs on the slave's wrists, just as you normally would, putting them behind the slave. Then take rope and bind together the elbows as far as is comfortable for the slave. This rope should go above the elbows at first, but you can add another layer of binding below the elbows too, just to be sure. This is going to cause the arms to be one big piece. Even if your slave is flexible, they will have limited mobility in their arms and they will not be able to do anything to make the bonds looser.
Investing in Leather or Canvas Armbinders
This is a sort of leather sack into which the arms are placed and then bindings or buckles are snapped into place to pull the arms closer and closer together. This is a much more intense experience and can be made even more restrictive with bindings on the wrists or hand mitts to prevent any movement in the fingers. This binder is also buckled underneath the breasts to keep it in place. You can also invest in a straitjacket if you want to have a different arm binding experience for your slave. This will keep the arms separate, but they will not be able to move the arms from their front position. Often made out of canvas, these straitjackets can also be found in other materials.
Armbinding is going to make your slave feel a little fearful at first, but this is completely normal and just what you want your slave to feel. You want to remind them again and again that you are in control – and if that means the bondage has to intensify from time to time. But this is your opportunity to prove your worth as a Dominant and
Are you a submissive who loves having your arms bound, tell U/us why do you love it so much? how do you prefer to have your arms bound? As a Dominant what is it that you love about binding your submissives arms? What is your favorite way of immobilizing their arms behind there back? Please feel free to leave a comment in the section below.
W/we can all grow when W/we share what W/we know.

To your journey,
Master Bishop
The founder of the BDSM Training Academy. Master Bishop has been involved in the Dominant/submissive lifestyle for over 15 years. With a love for education both learning and teaching, Master Bishop has passed on his knowledge and experience to others entering into the BDSM lifestyle for over 12 years. Join Master Bishop on Google+
================================================================
Copyright 2008-2018 BDSMTrainingAcademy.com. By reading and
accepting this article you agree to all of the following: You
understand that this is simply a set of opinions, personal
experience and anecdotal evidence (and not advice). You are
responsible for any use of the information in this article, and
hold BDSMTrainingAcademy.com and all members and affiliates
harmless in any claim or event.
================================================================
You must be 18+ years old to read this blog