For Healthy Roleplay in BDSM
Much of what we do in BDSM involves roleplay, and not just the 'strict teacher / naughty student' dress-up variety. Simply acting as the top or bottom in a scene is a role in itself, complete with its own responsibilities, energy, and intentions. The more we're able to immerse ourselves in the headspace of our role during play, the more powerful the experience becomes.
The intense experiences we have during play have the potential to transform our everyday lives, for better or worse. For BDSM to be a healthy practice, it's crucial that we refine our ability to cleanly separate fantasy from reality. Learning to compartmentalize BDSM will allow you to reap the benefits of kinky sexploration while continuing to function harmoniously outside the bedroom.
If we don't learn to compartmentalize, BDSM can end up negatively impacting our psychological state, our relationships, and even our career. For example, identifying as a dom during play with consenting submissive partners can be a deeply erotic and empowering experience. Allowing one's desire for domination to bleed into other areas of life, however, is a great way to lose friends. These kinds of conflicts are obviously best avoided.
Tips for Compartmentalizing Kink
So, whatcha think? Have you used any of these tips in the past? Do you have additional suggestions for compartmentalizing kink in healthy ways? Share your knowledge by letting us know in the comments.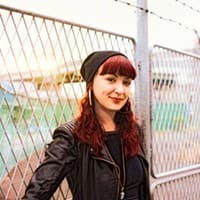 By Molly Lazarus
Molly Lazarus is a sex blogger, kink educator, and erotic fiction author. Her website, Kink Out Loud, serves as a resource for readers who are curious about BDSM or new to the practice. Offline, Molly acts as Volunteer Coordinator for the Bay Area chapter of Kinky Salon. You can follow her on Facebook and Pinterest, or browse her fiction on Amazon.
Copyright 2008-2023 BDSMTrainingAcademy.com
By reading and accepting this article you agree to all of the following: You understand that this is simply a set of opinions, personal experience and anecdotal evidence (and not advice). You are responsible for any use of the information in this article, and hold BDSMTrainingAcademy.com and all members and affiliates harmless in any claim or event.
You must be 18+ years old to read this blog